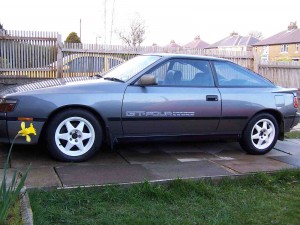 ---
---
1988 Toyota Celica Workshop Repair & Service Manual (1,338, Searchable, Printable iPad-ready PDF)
Complete digital workshop service and repair manual written for the 1988 Toyota Celica. All styles covered (all models, and engines). It is in the cross-platform PDF document format so that it works like a charm on all kinds of devices.
This QUALITY manual is 100% COMPLETE and INTACT, no MISSING/CORRUPT pages/sections to freak you out! Buy from responsible seller and get INSTANT DOWNLOAD now without wasting your hard-owned money on uncertainty or surprise; this manual is exactly as described.
PRODUCT DETAILS:
Total Pages: more than 1,338 pages
File Format: PDF (Windows & Mac & Linux)
Language: English
Delivery: instant download link displayed on checkout page & emailed to you after payment
Protection: DRM-free; without any restriction
Printable: Yes
This COMPLETE full workshop service repair manual includes:
* Detailed sub-steps expand on repair procedure information
* Notes, cautions and warnings throughout each chapter pinpoint critical information.
* Numbered instructions guide you through every repair procedure step by step.
* Bold figure number help you quickly match illustrations with instructions.
* Detailed illustrations, drawings and photos guide you through every procedure.
* Enlarged inset helps you identify and examine parts in detail.
* Numbered table of contents easy to use so that you can find the information you need fast.
* This manual also makes it easy to diagnose and repair problems with your machines electrical system.
* Troubleshooting and electrical service procedures are combined with detailed wiring diagrams for ease of use.
* COMPLETE, Absolutely No Missing Pages!
* Customer Satisfaction GUARANTEED!
EXCERPT (1988 Toyota Celica Service/Repair Manual):
TRANSMISSION REMOVAL & INSTALLATION – A/T
1988 Toyota Celica
1988 AUTOMATIC TRANSMISSION REMOVAL
Toyota Camry & Celica (2WD)
NOTE: The torque converter drive plate runout for all Toyota models is .008″ (.20 mm). Measure runout on face of drive plate as close to ring gear as possible.
REMOVAL
1) Disconnect negative battery cable. Remove airflow meter and air cleaner. Disconnect neutral safety switch connector and all external electrical connectors. Remove ground strap.
2) Disconnect transaxle throttle valve cable at throttle linkage and remove cable from bracket. Remove transaxle case protector and disconnect speedometer cable. Disconnect shift control cable at lever and remove from bracket.
3) Disconnect oil cooler hoses and remove starter motor bolts. Remove 2 upper transaxle-to-engine bolts. Remove insulator bracket set bolt for rear engine mount. Raise and support vehicle.
4) Drain transaxle oil. Disconnect and plug oil cooler hoses. Remove left front fender apron. Disconnect both axle shafts
from transaxle. Remove lower suspension crossmember. Using pliers, remove snap ring on center axle shaft bearing bracket. Remove bearing bracket bolt and pull center axle shaft assembly out.
5) Disconnect control cable clamp and remove crossmember bolts supporting center mounts of engine. Remove crossmember. Remove
stabilizer bar and left steering knuckle from lower control arm. Pull steering knuckle outward and remove left axle shaft.
6) Remove bellhousing cover and remove 6 bolts attaching torque converter to drive plate. On Camry, remove engine-to-transmission stiffener plate.
7) On all models, support engine with jack stand and secure transaxle jack under transaxle. Lower rear end of transaxle and
remove remaining transaxle-to-engine bolts. Separate transaxle from engine and lower transaxle assembly.
INSTALLATION
1) Apply multipurpose grease to center hub of torque converter. Install one guide pin in threaded mounting pad of torque converter to aid in aligning torque converter. Distance from torque converter drive lug to engine mating surface of transaxle should be at least .51″ (13 mm).
2) Reverse removal procedure to complete installation of transaxle. Torque converter bolts are color coded. Install Gray bolt first, then the remaining 5 bolts. Tighten torque converter bolts to 20 ft. lbs. (27 N.m).
---
---