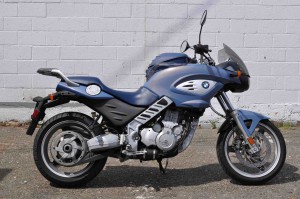 ---
---
2001-2006 BMW F650CS Workshop Repair & Service Manual (Searchable, Printable, Bookmarked, iPad-ready PDF)
Complete digital workshop service and repair manual written for the BMW F650CS; Production model years: 2001 2002 2003 2004 2005 2006. All styles covered (all models, and engines). It is in the cross-platform PDF document format so that it works like a charm on all kinds of devices.
This QUALITY manual is 100% COMPLETE and INTACT, no MISSING/CORRUPT pages/sections to freak you out! Buy from responsible seller and get INSTANT DOWNLOAD now without wasting your hard-owned money on uncertainty or surprise; this manual is exactly as described.
PRODUCT DETAILS:
Total Pages: 352 pages
File Format: PDF (Windows & Mac & Linux)
Language: English
Delivery: instant download link displayed on checkout page & emailed to you after payment
Protection: DRM-free; without any restriction
Printable: Yes
This COMPLETE official full workshop service repair manual includes:
* Detailed sub-steps expand on repair procedure information
* Notes, cautions and warnings throughout each chapter pinpoint critical information.
* Numbered instructions guide you through every repair procedure step by step.
* Bold figure number help you quickly match illustrations with instructions.
* Detailed illustrations, drawings and photos guide you through every procedure.
* Enlarged inset helps you identify and examine parts in detail.
* Numbered table of contents easy to use so that you can find the information you need fast.
* This manual also makes it easy to diagnose and repair problems with your machines electrical system.
* Troubleshooting and electrical service procedures are combined with detailed wiring diagrams for ease of use.
* COMPLETE, Absolutely No Missing Pages!
* Official Service INFORMATION You Can Count On!
* Customer Satisfaction GUARANTEED!
EXCERPT (2001-2006 BMW F650CS Service/Repair Manual):
Contents
Group / Chapter
00 Tightening torques, Operating fluids
00 Pre-delivery check
00 Maintenance
11 Engine
12 Engine electrics
13 Fuel preparation and control
16 Fuel tank and lines
17 Radiator
18 Exhaust system
21 Clutch
23 Gearbox
27 Chain/belt drive
31 Front forks
32 Steering
33 Rear wheel drive
34 Brakes
36 Wheels and tyres
46 Frame
51 Equipment
61 General electrical equipment
62 Instruments
63 Lights
17 40 000 Removing and installing fan
Remove right cover ( a 46.6).
Unclip the MoDiTeC plug from its holder.
Disconnect plug for fan.
Disengage the clips at top and bottom and remove the fan.
If necessary, remove fan from fan shroud.
Installation is the reverse of the removal procedure, pay particular attention to the following.
Slide the rubber grommet of the fan onto the pin of the expansion tank and then engage the tabs of the fan on the radiator.
33 Rear wheel drive
Technical Data …….. 3
Removing and installing suspension strut………5
Removing and installing rear swinging arm……6
Removing and installing needle roller races in rear swinging arm….8
Removing needle roller races ..8
Installing needle roller races ….8
Removing and installing needle bearings in rear swinging arm……..9
Removing needle roller bearing ………..9
Installing needle roller bearing ………..10
Removing and installing reaction link …..10
Removing and installing angled lever ….. 11
Removing and installing needle roller bearings and needle roller races in angled lever …….. 11
Removing needle roller bearings and needle roller races ……. 11
Installing needle roller bearings and needle roller races ……… 12
Removing and installing drive damper…..15
Measuring runout of belt pulley…13
Removing and installing eccentric with drive shaft
Separating eccentric from drive shaft 16
Removing and installing floating bearing of eccentric 16
Removing and installing fixed bearing of eccentric ….17
Pressing eccentric onto drive shaft …17
---
---