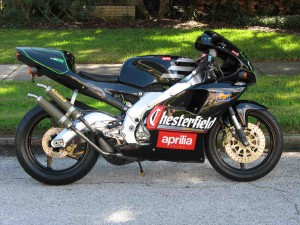 ---
---
Complete digital workshop service and repair manual written for your 1994-1998 Aprilia RS250 Motorcycle. All styles covered (all models, and engines). It is in the cross-platform PDF document format so that it works like a charm on all kinds of devices.
This QUALITY manual is 100% COMPLETE and INTACT, no MISSING/CORRUPT pages/sections to freak you out! Buy from responsible seller and get INSTANT DOWNLOAD now without wasting your hard-owned money on uncertainty or surprise; this manual is exactly as described.
PRODUCT DETAILS:
Total Pages: 5,80 pages
File Format: PDF (Windows & Mac & Linux)
Language: English/Italian/Spanish
Delivery: instant download link displayed on checkout page & emailed to you after payment
Protection: DRM-free; without any restriction
Printable: Yes
This COMPLETE full workshop service repair manual for 1994 1995 1996 1997 1998 Aprilia RS250 Motorbike includes:
* Detailed sub-steps expand on repair procedure information
* Notes, cautions and warnings throughout each chapter pinpoint critical information.
* Numbered instructions guide you through every repair procedure step by step.
* Bold figure number help you quickly match illustrations with instructions.
* Detailed illustrations, drawings and photos guide you through every procedure.
* Enlarged inset helps you identify and examine parts in detail.
* Numbered table of contents easy to use so that you can find the information you need fast.
* This manual also makes it easy to diagnose and repair problems with your machines electrical system.
* Troubleshooting and electrical service procedures are combined with detailed wiring diagrams for ease of use.
* COMPLETE, Absolutely No Missing Pages!
* Customer Satisfaction GUARANTEED!
EXCERPT (1994-1998 Aprilia RS250 Motorcycle Service/Repair Manual):
TABlE OF CONTENTS
GENERAL INFORMATION
PERIODIC MAINTENANCE AND TUNE-UP PROCEDURES
COOLING SYSTEM
ENGINE
FUEL AND LUBRICATION SYSTEM
COOLING SYSTEM
ELECTRICAL SYSTEM
CHASSIS
SERVICING INFORMATION
ENGINE COMPONENTS INSPECTION AND SERVICING CYLINDER HEAD
Remove the carbon and clean the cylinder head. Check for scratches on the mating surface. Check the gasketed surface of the cylinder head for distortion with a straightedge gauge or faceplate and thickness gauge, taking a clearance reading at several places indicated.
If the higher of the values recorded exceeds the limit indicated, replace the head.
Service limit: 0, 1 mm
If the highest reading at any portion of the straight-edge does not exceed the limit rework the surface by rubbing it against emery paper (of about# 400) laid flat on the surface plate in a lapping manner. The gaskets surface must be smooth and perfectly flat in order to secure a tight joint. A leaky joint can be the cause of reduced power output and increased fuel consumption.
FUEL TANK AND FUEL COCK
The fuel tank is equipped with a tank cap, a fuel cock and a fuel filter. The tank cap has an air vent which allows gasoline to flow to the carburettors smoothly. The fuel cock construction is as shown in the illustrations. The fuel cock has three positions, OFF, ON and RES, each of which can be selected by operating the cock lever. With the lever in ON position (normal), the main passage opens. With the lever in RES position, an auxiliary passage opens for supplying reserve fuel. With the lever in the OFF position, both of the passages are closed.
---
---