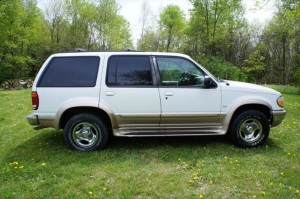 Ford 1998 Cars & Trucks Workshop Repair & Service Manual (COMPLETE & INFORMATIVE for DIY REPAIR) ☆ ☆ ☆ ☆ ☆
---
---
* COMPLETE, Absolutely No Missing Pages!
* Official Service INFORMATION You Can Count On!
* Customer Satisfaction GUARANTEED!
This high QUALITY official manual for Ford 1998 Cars & Trucks is 100 percents COMPLETE and INTACT, no MISSING, CORRUPT pages, sections to freak you out! This manual is exactly as described. It is in the cross-platform PDF document format so that it works like a charm on all kinds of devices.
MAKE: Ford
YEAR: 1998
MODEL:
AeroMax, Continental, Contour/Mystique, Crown Victoria, Econoline, Escort, Expedition, Explorer, F-& B-Series, F-150/250, Grand Marquis, Louisville, Mark VIII, Mountaineer, Mustang, Navigator, Ranger, Sable, Taurus, Town Car, Tracer, Villager, Windstar
FORMAT: ISO
LANGUAGE: English
SIZE/PAGE: 382 MB + 282 MB
OS: Windows (Mac OS X using Virtual Machine)
INSTANT DELIVERY: A download link will be sent to you instantly after payment. Simply click on the link and save it to your computer. You can use this Manual as long as you wish with no restrictions.
CUSTOMER SATISFACTION: If there is ANY kind of problem with the item you purchased, just drop a quick email. Within HOURS the issue shall be taken care of.
PRINTABLE MANUAL WITH DIAGRAMS: Just print the manual out and start to work. You can also use the manual with your Tablet/Laptop in your garage.
REFUND/EXCHANGE POLICY: We sell high QUALITY products only. However if you encounter any problems with the item you purchased, another replacement link will be sent to you. If we're at fault, you will get 100 percents refund.
Buy ☆THE BEST MANUAL ON THE INTERNET☆ from responsible seller and get instant download now without uncertainty or surprise.
This highly detailed workshop service repair manual for download contains virtually everything you will ever need to repair, maintain, rebuild, refurbish or restore Ford 1998 Cars & Trucks. All diagnostic and repair procedures and gives you access to the same information that professional technicians and mechanics have. You can view and print out the complete repair procedures with this workshop service repair manual Download – you do not need to be skilled with a computer.
EXCERPTS:
Transmission Fluid Cooler and Tubes
When internal wear or damage has occurred in the transmission, metal particles, clutch plate material or band material may have been carried into the torque converter (7902) and OTA fluid cooler. These contaminants are a major cause of recurring transmission troubles and must be removed from the system before the transmission is put back into service. Replace the OTA fluid cooler.
The OTA cooler must be replaced under the following conditions:
Evidence of transmission assembly or fluid contamination is found due to the following transmission or converter failure modes:
l major metallic failure.
l multiple clutches or clutch plate failures.
l sufficient component wear which results in metallic contamination.
Inspect cooler tubes and fittings for damage and leaks. Tighten fittings to specification. If leak persists, replace fittings and tubes as necessary.
After the fittings have been tightened to specification, add MERCON® V Automatic Transmission Fluid XT-5-QM or equivalent meeting Ford MERCON® V specification as necessary and check for fluid leaks.
Three Way Catalytic Converter (TWC)
Removal
WARNING:
THE NORMAL OPERATING TEMPERATURE OF THE EXHAUST SYSTEM IS VERY HIGH. NEVER WORK AROUND OR ATTEMPT TO SERVICE ANY PART OF THE EXHAUST SYSTEM UNTIL IT HAS COOLED. USE SPECIAL CARE WHEN WORKING AROUND THE THREE WAY CATALYTIC CONVERTER (TWC) (5E212). THESE UNITS HEAT TO A HIGH TEMPERATURE AFTER ONLY A SHORT PERIOD OF ENGINE OPERATION.
1. Raise vehicle. Refer to «Section 00-02».
2. Disconnect heated oxygen sensor electrical connectors.
3. Remove the retaining bolts at each three-way catalytic converter flange.
4. Remove the three-way catalytic converter to exhaust manifold retaining nuts.
5. Slide the exhaust inlet pipe (5246) rearward until the three way catalytic converters can be removed. It may be necessary to obtain sufficient clearance to separate the three way catalytic converter at exhaust manifold connection(s).
6. Discard exhaust converter outlet gaskets (5E241) and any damaged parts.
---
---