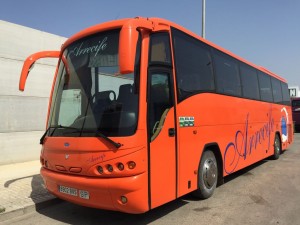 Mercedes-Benz OC500/MBC (Euro 4/5) Buses Workshop Repair & Service Manual
---
---
MAKE: Mercedes-Benz
LANGUAGE: English
O.S.: Cross-platform (Windows, Mac OS X, Linux)
FORMAT: CD ISO image (565 MB)
MODEL: OC 500/MBC Euro 4/5 BUS
OC 500 RF (C634.400 / C634.401 / C634.410)
OC 500 LE (C634.420)
MBC (C444.300)
This is the same type of official service manual your local dealer will use when doing a repair. This manual for Mercedes-Benz OC500/MBC (Euro 4/5) Buses has detailed illustrations as well as step by step instructions. All pages are printable, so run off what you need and take it with you into the garage or workshop. These manuals are your number one source for repair and service information. They are specifically written for the do-it-yourself-er as well as the experienced mechanic. Using this repair manual is an inexpensive way to keep your vehicle working properly. Each manual provides step-by-step instructions based on the complete dis-assembly of the machine. It is this level of detail, along with photos and illustrations, that guide the reader through each service and repair procedure.
This quality manual is 100% complete and intact, no missing/corrupt pages/sections to freak you out! Buy from responsible seller and get instant download now without surprise; this manual is exactly as described. It is in the cross-platform PDF document format so that it works like a charm on all kinds of devices.
This complete official full workshop service repair manual includes:
* Instructions guide you through every repair procedure step by step.
* Detailed sub-steps expand on repair procedure information
* Notes, cautions and warnings throughout each chapter pinpoint critical information.
* Bold figure number help you quickly match illustrations with instructions.
* Detailed illustrations, drawings and photos guide you through every procedure.
* Enlarged inset helps you identify and examine parts in detail.
* Troubleshooting and electrical service procedures are combined with detailed wiring diagrams for ease of use.
EXCERPTS:
Mercedes-Benz OC 500/MBC Euro 4/5 Workshop information
Verweis Important maintenance and repair instructions
OC 500 RF
(C634.400 / C634.401 / C634.410)
arrow Maintenance information arrow Base data
arrow Repair information arrow Base data
OC 500 LE
(C634.420)
arrow Maintenance information arrow Base data
arrow Repair information arrow Base data
MBC
(C444.300)
arrow Maintenance information arrow Base data
OC 500 RF (Euro 4/5)
Repair instructions
arrow_r.gif Basic data
00 Overall bus
01 Engine
03 Power unit
05 Engine control
07 Mixture control
09 Engine air intake, exhaust gas turbocharger
13 Air compressor/belt drives
14 Exhaust cleaning system, exhaust manifold
15 Engine electrical system
18 Engine lubrication
20 Engine cooling
22 Engine accessories, mounting
23 Steering pump, fan hydraulic pump
24 Engine mounting
25 Clutch
26 Manual transmission
27 Automatic transmission
32 Suspension
33 Front axle
35 Rear axle
39 Auxiliary axle
40 Wheels and tyres
41 Propeller shaft
42 Brake chassis/component
43 Continuous brake
46 Steering
47 Fuel system
49 Exhaust system
50 Bus cooling system
52 Air cleaner
54 Chassis electrical system
83 Heating, ventilation, air-conditioning (HLK)
89 Body mounting, vehicle accessories
---
---