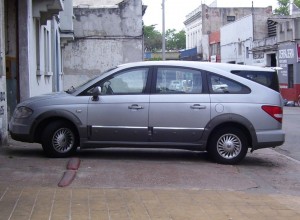 SsangYong Rodius 2004-2015 Workshop Repair & Service Manual (1.2GB PDF)
---
---
SsangYong Rodius 2004-2015 – SAMPLE
This is the same type of official service manual your local dealer will use when doing a repair. This manual has detailed illustrations as well as step by step instructions. All pages are printable, so run off what you need and take it with you into the garage or workshop. These manuals are your number one source for repair and service information. They are specifically written for the do-it-yourself-er as well as the experienced mechanic. Using this repair manual is an inexpensive way to keep your vehicle working properly. Each manual provides step-by-step instructions based on the complete dis-assembly of the machine. It is this level of detail, along with photos and illustrations, that guide the reader through each service and repair procedure.
This quality manual for SsangYong Rodius 2004-2015 is 100% complete and intact, no missing/corrupt pages/sections to freak you out! Buy from responsible seller and get instant download now without surprise; this manual is exactly as described. It is in the cross-platform PDF document format so that it works like a charm on all kinds of devices.
This complete official full workshop service repair manual includes:
* Instructions guide you through every repair procedure step by step.
* Detailed sub-steps expand on repair procedure information
* Notes, cautions and warnings throughout each chapter pinpoint critical information.
* Bold figure number help you quickly match illustrations with instructions.
* Detailed illustrations, drawings and photos guide you through every procedure.
* Enlarged inset helps you identify and examine parts in detail.
* Troubleshooting and electrical service procedures are combined with detailed wiring diagrams for ease of use.
EXCERPTS:
Functions
When the engine is running, the camshaft rotates the intake camshaft hydrauically/mechanically relative to the camshaft sprocket by 34° crankangle to the 'advanced' position and back to the 'retarded' position.
The camshaft adjuster is actuated electromechanically by the ECU. The positioning time of approx. 1 second is dependent on the engine oil pressure at the camshaft adjuster and on the oil viscosity and oil temperature, respectively. The position indicator (b)
on the camshaft sprocket (13) provides the camshaft rotational speed to the position sensor (9) as an input parameter for the engine ignition control unit….
Adjustment Procedure
1. Position the No.1 cylinder to BTDC 30° .
2. Remove the chain tensioner.
3. Remove the exhaust camshaft sprocket.
4. Align the intake and exhaust camshaft flange hole with the cylinder head upper surface.
• Intake Side : 3 o'clock direction
• Exhaust Side : 9 o'clock direction
5. Align the holes on intake and exhaust camshaft to the hole on cylinder head. Insert the holding pin DW 110-120 into the hole.
6. Secure the intake and exhaust camshaft.
7. Position the piston of No.1 cylinder at TDC (OT) by turning the crankshaft.
8. Turn the camshaft adjuster of the intake camshaft
to the left as much as possible (cam adjuster 'retarded' position).
9. Install the chain to the intake camshaft sprocket.
Notice: Timing chain must be placed on the guide rail in gear case cover…
---
---