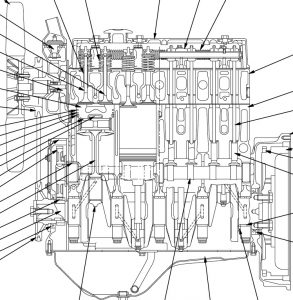 Pages from SEBM031001 – 95-3 Series Diesel Engine Shop Manual
Complete workshop & service manual with electrical wiring diagrams for Komatsu 67(E)-68E-70E-72-74E-75-76(E)-78(E)-82E-84E-88E-94E-95(E)-98(E)-106 Series Diesel Engines. It's the same service manual used by dealers that guaranteed to be fully functional and intact without any missing page.
This Komatsu 67, 67E, 68E, 70E, 72, 74E, 75, 76, 76E, 78, 78E, 82E, 84E, 88E, 94E, 95, 95E, 98, 98E, 106 Series Diesel Engines service & repair manual (including maintenance, overhaul, disassembling & assembling, adjustment, tune-up, operation, inspecting, diagnostic & troubleshooting…) is divided into different sections. Each section covers a specific component or system with detailed illustrations. A table of contents is placed at the beginning of each section. Pages are easily found by category, and each page is expandable for great detail. The printer-ready PDF documents work like a charm on all kinds of devices.
SEBE6142A03 – 94 Series Diesel Engine Shop Manual.pdf
SEBE61460114 – 95 Series Diesel Engine Shop Manual.pdf
SEBM002400 – 72-2, 75-2, 78-1, 84-2 Series Diesel Engine Shop Manual.pdf
SEBM011501 – 68E, 74E, 78E, 82E, 84E, 88E Series Diesel Engine Shop Manual.pdf
SEBM013001 – 94E, 98E Series Diesel Engine Shop Manual.pdf
SEBM018803 – 95-2 Series Diesel Engine Shop Manual.pdf
SEBM031001 – 95-3 Series Diesel Engines Shop Manual.pdf
SEBM035103 – 82E, 84E, 88E, 94E, 98E Series Diesel Engine Shop Manual.pdf
SEBM037701 – 70E-5, 76E-5 Series Diesel Engine Shop Manual.pdf
SEBM038300 – 67E-1 (3D67E-1A) Diesel Engine Shop Manual.pdf
SEN01966-15 – 95E-5 Series Diesel Engine Shop Manual.pdf
SEN04211-03 – 82E-6, 84E-6, 88E-6, 94E-6, 98E-6 Series Diesel Engine Shop Manual.pdf
SEN04357-00 – 95E-5 Series (KOHAG SPEC.) Diesel Engine Shop Manual.pdf
SEN04408-00 – 95 Series Diesel Engine Shop Manual.pdf
SEN06060-01 – 95E-6 Series Diesel Engine Shop Manual.pdf
WEBD4D9801 – 4D98 Series, 4D106 Series, S4D106 Series Diesel Engine Shop Manual.pdf
EXCERPT:
CONTENTS
01 GENERAL…………… 01-1
11 STRUCTURE, FUNCTION AND
MAINTENANCE STANDARD……. 11-1
12 TESTING AND ADJUSTING…………….. 12-1
13 DISASSEMBLY AND ASSEMBLY………………. 13-1
15 REPAIR AND REPLACEMENT OF PARTS………………… 15-1
…
STRUCTURE, FUNCTION AND MAINTENANCE STANDARD BOOST COMPENSATOR
BOOST COMPENSATOR
FUNCTION
• The boost compensator is actuated by the air supply pressure (boost pressure) of the turbocharger.
It acts through a different line from the governor to increase the fuel injection amount when there is high speed and high load.
• On engines equipped with a turbocharger, because of the inertia of the turbocharger, the increase in the fuel injection when the fuel control lever is operated comes earlier than the increase in the amount of air, so the exhaust color is poor when accelerating.
• As a result, on engines equipped with a turbocharger, the fuel setting is made so that the performance of the turbocharger is limited, or so the exhaust gas color is poor, or an intermediate point is chosen.
• The boost compensator improves this situation: the exhaust gas color does not become poor when accelerating and the turbocharger can display its full performance.
• If the fuel setting is made the same as for an engine without boost compensator when the boost compensator is actuated, the fuel injection at low speed (when the boost compensator is not actuated) or when accelerating becomes smaller, so the exhaust color can be greatly improved. It is used frequently for this purpose on engines operating inside tunnels or on ships.
• When the boost pressure becomes above a certain pressure, diaphragm (8) is pushed in, pushes push rod (5), and moves boost compensator lever (9) and floating lever (2) to move control rack (16) in the direction to increase the fuel.
• The actuation pressure and actuation amount are determined by the tension of boost compensator spring (6), and can be adjusted by adjustment screw (7).
…