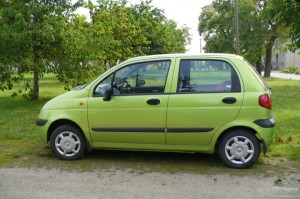 ---
---
Daewoo Matiz 2003 Workshop Repair & Service Manual (COMPLETE & INFORMATIVE for DIY REPAIR) ☆ ☆ ☆ ☆ ☆
* COMPLETE, Absolutely No Missing Pages!
* Official Service INFORMATION You Can Count On!
* Customer Satisfaction GUARANTEED!
This high QUALITY official manual for Daewoo Matiz 2003 is 100 percents COMPLETE and INTACT, no MISSING, CORRUPT pages, sections to freak you out! This manual is exactly as described. It is in the cross-platform PDF document format so that it works like a charm on all kinds of devices.
FORMAT: PDF
LANGUAGE: English
SIZE/PAGE: 1,184 Pages
OS: Windows/Mac OS X/Linux/Android/iOS
INSTANT DELIVERY: A download link will be sent to you instantly after payment. Simply click on the link and save it to your computer. You can use this Manual as long as you wish with no restrictions.
CUSTOMER SATISFACTION: If there is ANY kind of problem with the item you purchased, just drop a quick email. Within HOURS the issue shall be taken care of.
PRINTABLE MANUAL WITH DIAGRAMS: Just print the manual out and start to work. You can also use the manual with your Tablet/Laptop in your garage.
REFUND/EXCHANGE POLICY: We sell high QUALITY products only. However if you encounter any problems with the item you purchased, another replacement link will be sent to you. If we're at fault, you will get 100 percents refund.
Buy ☆THE BEST MANUAL ON THE INTERNET☆ from responsible seller and get instant download now without uncertainty or surprise.
This highly detailed workshop service repair manual for download contains virtually everything you will ever need to repair, maintain, rebuild, refurbish or restore Daewoo Matiz 2003. All diagnostic and repair procedures and gives you access to the same information that professional technicians and mechanics have. You can view and print out the complete repair procedures with this workshop service repair manual Download – you do not need to be skilled with a computer.
Factory repair manuals are the same manuals as those used by the dealers. As they are primarily intended for dealer use the manufacturers usually release a base repair manual when a new model is introduced (either a single manual, multi-volume set or separate volumes) and then release supplementary manuals as the model changes, for example a model facelift or introduction of a new engine. Supplements generally cover only changes to the model and are intended to be used in conjunction with the base repair manual(s). For full coverage you will need the base repair manual and all relevant supplements up to the date your model was manufactured. Please note that workshop manuals are usually written for models sold in a specific country. Differences in specification can exist between models sold in different countries and items such as engines can vary.
---
---
EXCEPRTS:
ENGINE
CONTENTS
SECTION 1A GENERAL ENGINE INFORMATION
SECTION 1B SOHC ENGINE MECHANICAL
SECTION 1D ENGINE COOLING
SECTION 1E ENGINE ELECTRICAL
SECTION 1F ENGINE CONTROLS
SECTION 1G ENGINE EXHAUST
SUSPENSION
CONTENTS
SECTION 2A SUSPENSION DIAGNOSIS
SECTION 2B WHEEL ALIGNMENT
SECTION 2C FRONT SUSPENSION
SECTION 2D REAR SUSPENSION
SECTION 2E TIRES AND WHEELS
DRIVELINE/AXLE
CONTENTS
SECTION 3B MANUAL TRANSAXLE DRIVE AXLE
BRAKES
CONTENTS
SECTION 4A HYDRAULIC BRAKES
SECTION 4B MASTER CYLINDER
SECTION 4C POWER BOOSTER
SECTION 4D FRONT DISC BRAKES
SECTION 4E REAR DRUM BRAKES
SECTION 4F ANTILOCK BRAKE SYSTEM
SECTION 4G PARKING BRAKE
TRANSAXLE
CONTENTS
SECTION 5B FIVE–SPEED MANUAL TRANSAXLE
SECTION 5C CLUTCH
STEERING
CONTENTS
SECTION 6A POWER STEERING SYSTEM
SECTION 6B POWER STEERING PUMP
SECTION 6C POWER STEERING GEAR
SECTION 6D MANUAL STEERING GEAR
SECTION 6E STEERING WHEEL AND COLUMN
HVAC (HEATING, VENTILATION, AND AIR CONDITIONING)
CONTENTS
SECTION 7A HEATING AND VENTILATION SYSTEM
SECTION 7B MANUAL CONTROL HEATING, VENTILATION, AND AIR CONDITIONING SYSTEM
RESTRAINTS
CONTENTS
SECTION 8A SEAT BELTS
SECTION 8B SUPPLEMENTAL INFLATABLE RESTRAINTS (SIR)
BODY AND ACCESSORIES
CONTENTS
SECTION 9A BODY WIRING SYSTEM
SECTION 9B LIGHTING SYSTEMS
SECTION 9C HORNS
SECTION 9D WIPERS / WASHER SYSTEMS
SECTION 9E INSTRUMENTATION / DRIVER INFORMATION
SECTION 9F AUDIO SYSTEMS
SECTION 9G INTERIOR TRIM
SECTION 9H SEATS
SECTION 9I WATERLEAKS
SECTION 9J WINDNOISE
SECTION 9K SQUEAKS AND RATTLES
SECTION 9L GLASS AND MIRRORS
SECTION 9M EXTERIOR TRIM
SECTION 9N FRAME AND UNDERBODY
SECTION 9O BUMPERS AND FASCIAS
SECTION 9P DOORS
SECTION 9Q ROOF
SECTION 9R BODY FRONT END
SECTION 9S BODY REAR END
SECTION 9T IMMOBILIZER ANTI–THEFT SYSTEM
REPAIR INSTRUCTIONS
ON-VEHICLE SERVICE
FUEL PUMP
Tools Required
DW 140–010A Fuel Pump Lock Ring Remover/Installer.
Removal Procedure
Caution: The fuel system is under pressure. To avoid fuel spillage and the risk of personal injury or fire, it is necessary to relieve the fuel system pressure before disconnecting the fuel lines.
1. Relieve the fuel system pressure.
Start the engine and remove the rear seat cushon (1).
Remove the fuel pump access cover (2).
Disconnect the fuel pump assembly electrical connector lock pin (3).
Disconnect the fuel pump assembly electrical connector (4).
Crank the engine for an additional 10 seconds.
2. Disconnect the fuel lines from the fuel pump.
Disconnect the fuel outlet line (1).
Disconnect the fuel tank return line (2).
3. Remove the fuel pump assembly from the tank.
Install the fuel pump lock ring remover/installer DW140– 010A.
Turn the fuel tank lock ring counterclockwise (1).
Remove the fuel pump assembly (2).
Remove the fuel pump gasket (3).
Installation Procedure
1. Install in the reverse order of removal.
2. Perform an operational check of the fuel pump.
* Perform an operational check of the ignition switch ON the 2 seconds fuel pump operation.