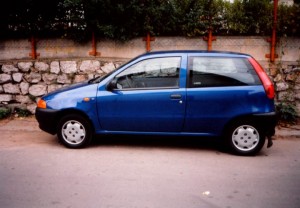 ---
---
Fiat Punto 1994-2003 Workshop Repair & Service Manual [COMPLETE & INFORMATIVE for DIY REPAIR] ☆ ☆ ☆ ☆ ☆
* COMPLETE, Absolutely No Missing Pages!
* Official Service INFORMATION You Can Count On!
* Customer Satisfaction GUARANTEED!
This high QUALITY official manual for Fiat Punto 1994-2003 is 100 percents COMPLETE and INTACT, no MISSING, CORRUPT pages, sections to freak you out! This manual is exactly as described. It is in the cross-platform PDF document format so that it works like a charm on all kinds of devices.
FORMAT: PDF
LANGUAGE: English/Italian
OS: Windows/Mac/Linux
1994 1995 1996 1997 1998 1999 2000 2001 2002 2003 Fiat Punto
'94-'99 Punto (L to V registration) Petrol & Diesel.pdf
'99-'03 Punto (V reg onwards) Petrol.pdf
'99-'06 Punto 1.2 16V e 1.3 JTD (IT).pdf
INSTANT DELIVERY: A download link will be sent to you instantly after payment. Simply click on the link and save it to your computer. You can use this Manual as long as you wish with no restrictions.
CUSTOMER SATISFACTION: If there is ANY kind of problem with the item you purchased, just drop a quick email. Within HOURS the issue shall be taken care of.
PRINTABLE MANUAL WITH DIAGRAMS: Just print the manual out and start to work. You can also use the manual with your Tablet/Laptop in your garage.
REFUND/EXCHANGE POLICY: We sell high QUALITY products only. However if you encounter any problems with the item you purchased, another replacement link will be sent to you. If we're at fault, you will get 100 percents refund.
Buy ☆THE BEST MANUAL ON THE INTERNET☆ from responsible seller and get instant download now without uncertainty or surprise.
This highly detailed workshop service repair manual for download contains virtually everything you will ever need to repair, maintain, rebuild, refurbish or restore Your Fiat Punto 1994-2003 (ALL MODELS ARE COVERED). All diagnostic and repair procedures and gives you access to the same information that professional technicians and mechanics have. You can view and print out the complete repair procedures with this workshop service repair manual Download – you do not need to be skilled with a computer.
EXCERPTS:
1 General information
Included In this Part of Chapter 2 are details of removing the engine/transmission from the
car and general overhaul procedures for the cylinder head, cylinder block/crankcase and all other engine Internal components.
The Information given ranges from advice concerning preparation for an overhaul and the purchase of new parts, to detailed step-by-step procedures covering removal, inspection, renovation and refitting of engine Internal components.
After Section 5, ell instructions are based on the assumption that the engine has been removed from the car. For Information concerning In-car engine repair, as well as the removal and refitting of those external components necessary for full overhaul, refer to Part A or B of this Chapter (as applicable) and to Section 5. Ignore any preliminary dismantling operations described In Part A or B that are no longer relevant once the engine has been removed from the car.
Precautions
• Do not attempt to remove the expansion tank pressure cap, or to disturb any part of the cooling system while the engine is hot, as there is a high risk of scalding. If the expansion tank pressure cap must be removed before the engine and radiator have fully cooled (even though this is not recommended), the pressure in the cooling system must first be re/laved. Cover the cap with a thick layer of cloth, to avoid scalding, and slowly unscrew the pressure cap until a hissing sound is heard. When the hissing stops, Indicating that the pressure has reduced, slowly unscrew the pressure cap until it can be removed; if more hissing sounds are heard, wait until they have stopped before unscrewing the cap completely. At all times, keep your face well away from the pressure cap opening, and protect your hands.
• Do not allow antifreeze to come into contact with your skin, or with the painted surfaces of the vehicle. Rinse off spills immediately, with plenty of water. Never leave antifreeze lying around in an open container, or in a puddle in the driveway or on the garage floor. Children and pets are attracted by its sweet smell, but antifreeze can be fatal if ingested.
• If the engine is hot, the electric cooling fan may start rotating even if the engine and ignition are switched off. Be careful to keep your hands, hair, and any loose clothing well clear when working in the engine compartment.
---
---