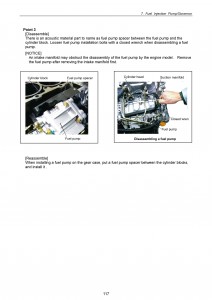 ---
---
TNV Series Diesel Engine (WEBMTNV000) – SAMPLE
Komatsu Diesel Engines (TNV, 108, 114E, 125, 140, 155, 170, 6D105, 6D170 series) Workshop Repair & Service Manual
This is the same type of official service manual your local dealer will use when doing a repair for Komatsu Engines (TNV, 108, 114E, 125, 140, 155, 170, 6D105, 6D170 series) in PDF format. This manual has detailed illustrations as well as step by step instructions. All pages are printable, so run off what you need and take it with you into the garage or workshop. These manuals are your number one source for repair and service information. They are specifically written for the do-it-yourself-er as well as the experienced mechanic. Using this repair manual is an inexpensive way to keep your vehicle working properly. Each manual provides step-by-step instructions based on the complete dis-assembly of the machine. It is this level of detail, along with photos and illustrations, that guide the reader through each service and repair procedure.
This quality manual is 100% complete and intact, no missing/corrupt pages/sections to freak you out! Buy from responsible seller and get instant download now without surprise; this manual is exactly as described. It is in the cross-platform PDF document format so that it works like a charm on all kinds of devices.
This complete official full workshop service repair manual includes:
* Instructions guide you through every repair procedure step by step.
* Detailed sub-steps expand on repair procedure information
* Notes, cautions and warnings throughout each chapter pinpoint critical information.
* Bold figure number help you quickly match illustrations with instructions.
* Detailed illustrations, drawings and photos guide you through every procedure.
* Enlarged inset helps you identify and examine parts in detail.
* Troubleshooting and electrical service procedures are combined with detailed wiring diagrams for ease of use.
"6D105 Series Diesel Engine (SEBE61360109).pdf"
350 pages, Shop Manual
engine model: 6D105-1A, 6D105-1C, 6D105-1D, S6D105-1, S6D105-1B, S6D105-1C, S6D105-1E, S6D105-B-1,
applicable machine: D40A,P-3, D41A,E,P-3, D41S, Q-3, EC170Z-1, EC170ZS-1, EG75-2, EG75S-2, EG80-1, EG80S-1, EG100-2, EG100S-2, EG125-1, EG125S-1, GD405A-1, GD500R-2, GD505A-2, GD505R-2, GD611A-1, GD661A-1, GD521A-1, GD521R-1, GD523A-1, JV100A-1, LW160-1, LW200-1, LW200L-1, PC150-1, PC150LC-1, PC200-1, PC200-2, PC200-3, PC200LC-2, PC200LC-3, PC220-1, PC220-2, PC220LC-2, PC220-3, PC220LC-3, W60, W60-2, W70, W70-2, W70-3, W90-2, W90-3, WA200-1, WA300-1, WA320-1,
"6D170-1 Series Diesel Engine (SEBES6161000).pdf"
188 pages, Shop Manual
engine: S6D170-1, SA6D170-B-1, SA6D170-A-1
"108 Series Diesel Engine (SEBE62210104).pdf"
254 pages, Shop Manual
engine model: S6D108-1
applicable machine: EG185B-L-1, D57S-1, PC300-5, PC300HD0-5, PC360LC-5, SA6D108-M-1, WA320-3, WA380-3, WA420-3, Sugar sane harvester AUSTOFT in AUSTRALIA, Generator DENYO DCA 180
"114E-3 Series Engine (SEN00169-00).pdf"
102 pages, Shop Manual
engine: SAA6D114E-3
applicable machine: D65EX-15, D65PX-15, D65WX-15, PC300-7, PC300LC-7, PC350-7, PC350LC-7, WA430-6
"125-2 Series Diesel Engine (SEBM006410).pdf"
366 pages, Shop Manual
engine: 6D125-2
applicable machine: D53A-17, D53P-17, D58E-1, D58P-1, D65E-12, D70LE-12
engine: S6D125-2
applicable machine: D60, D60P-12, D65P-12, D65PX-12, D65EX-12, PX-12, D75-S-5, D85A-21, D85A-21S, D85A-21B, D85A-21D, D85E-21, D85P-21, D85C-21, D85E-SS-2, D85E-SS-2A, D87E, D67P-2, LW250-5, CS210-1, FD250-2, FD400-2, EG220BS-2, DCA-220SSK (MQ generator)
engine: SA6D125-2
applicable machine: PC400-6C, PC400LC-6, PC450-6 MIGHTY, PC450LC-6 MIGHTY, HD255-5, WA470-3, WA450-3 (USA), BR500JG-1, FD430-2, EG300BS-5, DCA-300SK, DCA300SPK, J6D125E-G1-2
engine: SAA6D125-2
applicable machine: PC400-6, PC400-6 (USA), PC400AC-6, BR550JG-1, SAA6D125-P400
"140-3 Series Diesel Engine (SEBM022209).pdf"
376 pages, Shop Manual
engine: SA6D140E-3
applicable machine: D155AX-5, PC600-6, WA500-3, DCA400SSK
engine: SAA6D140E-3
applicable machine: HD325-6, HM350-1, HM400-1, PC750-6, PC750LC-6, PC750-7, PC800-6, PC800-7, PC1800-6 (USA)
engine: SSA6D140E-3
applicable machine: D275A-5, D275AX-5
"155-4 Series Engine (SEBE6120A04).pdf"
376 pages, Shop Manual
engine: S4D155-4, S4D155-4 (with Starting Motor, SN: 10011~19999), S4D155-4 (with 2G82 Starting Engine, SN: 10011~19999 [option]), S4D155-4 (with Starting Motor, SN: 20000~24804), S4D155-4 (D150, 155A-1, SN: 24805 and up), S4D155G-4, SA4D155-4, 2G84-8 (Gasoline Engine), 2K68 (Gasoline Engine), 28K (Gasoline Engine)
applicable machine: D80A-17, D85A-17, D95S-1, D150A-1, D155A-1, D155S-1, D155W-1, D155C-1, D155A-2, D355A-1, D355A-3, D355C-3, EG300-1, EG300-2
"170-3 Series Diesel Engine (QSK23) (SEBM023412).pdf"
454 pages, Shop Manual
engine: SA6D170E-3
applicable machine: D375A-5
engine: SAA6D170E-3
applicable machine: PC1250-7, WA600-3, WA700-3, WD600-3, HD465-7, HD605-7, Generator
engine: SAA6D170E2-3
applicable machine: DCA-800SSK2 (DENYO GENERATOR)
engine: SAA6D170E-P910
applicable machine: EGS950-6 Generator
engine: SAA6D170E-P970
applicable machine: EGS1050-7 Generator
"TNV Series Diesel Engine (WEBMTNV000).pdf"
280 pages, Shop Manual
Komatsu TNV (3D82AE/3D84E/3D88E/4D88E/4D98E/4D106/S4D84E/S4D98E/S4D106) Series Shop Manual
applicable machine model:
PC27R-8, PC35R-8, PC45R-8, PC75R-2, PW75R-2, PC95R-2, PW95R-2, PC110R-1, PW110R-1, SK510-5, SK714-5, SK815-5, SK815-5 turbo, SK818-5, SK820-5 turbo, SK1020-5, SK1020-5 turbo, SK1026-5 turbo, WB70A-1, WB98A-2, WB91R-2, WB93R-2, WB97R-2, WB97S-2, WB150AWS-2
engine model (Yanmar): 3TNV82A-M5FA, 3TNV88-N5FA, 4TNV88-N5FA, 4TNV98-X2FB, 4TNV98-X2FB, 4TNV106-S2FB, 4TNV106T-W2FB, 3TNV84-K5FD, 4TNV88-K5FD, 4TNV84T-K5FD, 4TNV84T-K5FD, 4TNV98-N2FE, 4TNV98T-N2FE, 4TNV98-N2FA, 4TNV106T-S2FC, 4TNV106-S2FA, 4TNV106T-S2FA
engine model (Komatsu): 3D82AE-5MFA, 3D88E-5NFA, 4D88E-5NFA, 4D98E-2XFB, 4D106-2SFB, 4D1062SFB, S4D106-2WFB, 3D84E-5KFD, 4D88E-5KFD, S4D84E-5KFD, 4D98E-2NFE, S4D98E-2NFE, 4D98E-2NFA, S4D106-2SFC, 4D106-2SFA, S4D106-2SFA
EXCERPTS:
1.6 Exhaust gas emission regulation
The engines in this manual have been certified by the US EPA, California ARB and/or the 97/68/EC
Directive.
California
Proposition 65 Warning
Diesel engine exhaust and some of its constitutions are known to the State of California to cause cancer, birth defects, and other reproductive harm.
California
Proposition 65 Warning
Battery posts, terminals, and related accessories contain lead and lead compounds, chemicals known to the State of California to cause cancer and reproductive harm.
2.4 Sensor Inspection
2.4.1 Oil pressure switch
Disconnect the connector from the oil pressure switch.
Keep the voltammeter probes in contact with the switch terminal and cylinder block while operating the engine. It is abnormal if circuit is closed.
2.4.2 Thermo switch
Place the thermo switch in a container filled with antifreeze or oil. Heat it while measuring the fluid temperature. The switch is normal if the voltammeter shows continuity when the fluid temperature is 107 113 deg C.
---
---