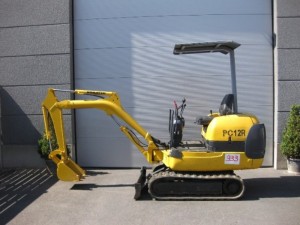 Komatsu PC12R-8, PC15R-8 Hydraulic Excavator Repair & Service Manual (Searchable & Printable PDF)
---
---
Shop Manual (WEBM000101) SAMPLE
Complete digital official shop manual contains service, maintenance, and troubleshooting information for the Komatsu PC12R-8, PC15R-8 Hydraulic Excavator. Diagnostic and repair procedures are covered in great detail to repair, maintain, rebuild, refurbish or restore your vehicle like a professional mechanic in local service/repair workshop. This cost-effective quality manual is 100% complete and intact as should be without any missing pages. It is the same factory shop manual used by dealers that guaranteed to be fully functional to save your precious time.
This manual for Komatsu PC12R-8, PC15R-8 Hydraulic Excavator is divided into different sections. Each section covers a specific component or system and, in addition to the standard service procedures, includes disassembling, inspecting, and assembling instructions. A table of contents is placed at the beginning of each section. Pages are easily found by category, and each page is expandable for great detail. It is in the cross-platform PDF document format so that it works like a charm on all kinds of devices. You do not need to be skilled with a computer to use the manual.
"Shop Manual (WEBM000101).pdf"
324 pages
PC12R-8, PC15R-8 HYDRAULIC EXCAVATOR
PC12R-8 F22426 in poi
PC15R-8 F31605 in poi
"Operation & Maintenance Manual (WEAM002702).pdf"
208 pages
PC12R-8, PC12R-8 HS, PC15R-8, PC15R-8 HS HYDRAULIC EXCAVATOR
SN: PC12R-8 – F31493 and up, PC12R-8 HS – F31493 and up, PC15R-8 – F22262 and up, PC15R-8 HS – F22262 and up
Buy the best manual on the Internet from responsible merchant and get instant download without surprise.
INSTANT Delivery: A download link will be sent to you instantly after payment. Simply click on the link and save it to your computer. You can use this Manual as long as you wish with no restrictions.
PRINTABLE with Diagrams: Just print the manual out and start to work. You can also use the manual with your laptop in your garage.
Customer SATISFACTION: If there is any problem, just drop a quick email. Within hours the issue shall be taken care of.
REFUND Policy: We sell high quality products only. In case there is any problem with your purchase, a replacement link will be sent to you. If we are at fault, you get 100% refund.
EXCERPT:
2.2.1 GENERAL SAFETY RULES
2.2.2 SAFETY DEVICES AND GUARDS
2.2.3 CLOTHING AND PERSONAL PROTECTION
ITEMS
• Only trained and authorized personnel can use the machine and perform maintenance operations.
• Follow all the safety rules, precautions and instructions when using the machine or performing maintenance operations.
• When working with other operators or when the work site is often occupied by other operators, make sure that
everyone knows and understands all the agreed signals and, in any case, that everyone works in such a way as
to be able to see the machine and to be visible to the operator.
• Make sure that all the guards and covers are in the correct position. Have guards and covers changed or repaired if damaged. Neither use the machine without guards, nor remove the guards when the engine is running.
• Always use the proper safety devices to lock the machine when parking and fasten the safety belt.
• For the safety devices, see "3.1 SAFETY LOCKS".
• For the safety belt, see "3.5.6 SAFETY BELT".
• Do not remove the safety devices and always keep them in good operating conditions.
• Any improper use of the safety devices may result in serious injuries or even death
---
---