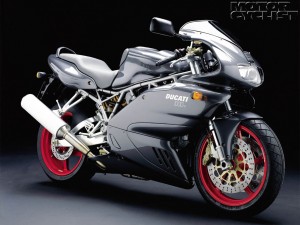 ---
---
Ducati Multistrada/S/1000DS Motorcycle 2003-2010 Workshop Repair & Service Manual (COMPLETE & INFORMATIVE for DIY REPAIR) ☆ ☆ ☆ ☆ ☆
* COMPLETE, Absolutely No Missing Pages!
* Official Service INFORMATION You Can Count On!
* Customer Satisfaction GUARANTEED!
This high QUALITY official manual for Ducati Multistrada 2003-2010 is 100 percents COMPLETE and INTACT, no MISSING, CORRUPT pages, sections to freak you out! This manual is exactly as described. It is in the cross-platform PDF document format so that it works like a charm on all kinds of devices.
MAKE: Ducati
MODEL: Multistrada, Multistrada 1000DS, Multistrada ABS, Multistrada S ABS (MTS 1200, MTS 1200 ABS, MTS 1200 S Touring, MTS 1200 S ABS)
YEAR: 2003 2004 2005 2006 2007 2008 2009 2010
FORMAT: PDF
PAGES / SIZE: 912 + 592 Pages
LANGUAGE: English Italian
INSTANT DELIVERY: A download link will be sent to you instantly after payment. Simply click on the link and save it to your computer. You can use this Manual as long as you wish with no restrictions.
CUSTOMER SATISFACTION: If there is ANY kind of problem with the item you purchased, just drop a quick email. Within HOURS the issue shall be taken care of.
PRINTABLE MANUAL WITH DIAGRAMS: Just print the manual out and start to work. You can also use the manual with your Tablet/Laptop in your garage.
REFUND/EXCHANGE POLICY: We sell high QUALITY products only. However if you encounter any problems with the item you purchased, another replacement link will be sent to you. If we're at fault, you will get 100 percents refund.
Buy ☆THE BEST MANUAL ON THE INTERNET☆ from responsible seller and get instant download now without uncertainty or surprise.
This highly detailed workshop service repair manual for download contains virtually everything you will ever need to repair, maintain, rebuild, refurbish or restore Ducati Multistrada 2003-2010. All diagnostic and repair procedures and gives you access to the same information that professional technicians and mechanics have. You can view and print out the complete repair procedures with this workshop service repair manual Download – you do not need to be skilled with a computer.
EXERPTS:
Section 1
1 – General 0
1 – How to use this manual 3
How to use this manual 3
Layout of the manual 4
2 – Symbols – Abbreviations – References 5
Product specifications 6
3 – Hazardous Products – Warnings 8
General safety rules 8
General maintenance indications 10
Section 2
2 – Model-specific information 0
1 – Identification data 3
Multistrada 1200 ABS identification data 3
Section 3
3 – Technical data 0
1.1 – Technical specifications 3
General 3
Colors 4
Transmission 4
Timing system/valves 5
Crankshaft 5
Cylinder/Piston 6
Gearbox 6
Cooling system 6
Front wheel 7
Front suspension (1200 ASB) 7
Front suspension (1200 S ASB) 7
Rear wheel 7
Rear suspension (1200 ASB) 8
Rear suspension (1200 S ASB) 8
Hydraulic brakes 8
Charging system/alternator 9
Injection-ignition system 9
Fuel system 9
Injection system 9
Lights/instrument panel 10
1.2 – Dimensions 11
2 – Fuel, lubricants and other fluids 12
3 – Torque settings 13
Frame torque settings 13
Engine torque settings 20
4 – Service tools 23
Specific tools for the engine 23
Specific tools for the frame 29
Section 4
4 – Maintenance operations 0
1 – Vehicle pre-delivery 3
2 – Scheduled maintenance chart 4
Operations to be carried out by the dealer 4
List of operations to be performed at 1000 km 4
Operations to be carried out by the dealer 5
List of operations to be performed every 12000 km / year (first limit reached) 5
Operations to be carried out by the customer 5
List of operations to be performed every 1000 km 5
3 – Maintenance operations 6
Reading of the error memory with DDS on the engine control units, vehicle and ABS 6
Checking the engine oil level 6
Changing the engine oil and filter cartridge 7
Checking valve clearances 14
Renew the timing belts 17
Spark plugs replacement 18
Changing and cleaning the air filters 23
Checking the coolant level 26
Change the coolant 27
Changing the brake fluid 35
Draining the brake circuit 40
Filling the brake system with fluid 42
Changing the clutch fluid 46
Draining the clutch hydraulic circuit 47
Filling the clutch circuit 49
Adjusting the steering head bearings 51
Adjusting the chain tension 52
Checking brake pad wear and changing brake pads 54
Adjusting the throttle cable 61
Adjusting the clutch lever and front brake lever 64
Adjusting the position of the gear change and rear brake pedals 65
Front fork adjustment (MTS 1200 ABS) 66
Rear shock absorber adjustment (MTS 1200 ABS) 67
Adjusting the rear ride set-up 68
5 – Fairings 0
1 – Rear-view mirrors 3
Removing the panel 4
Refitting the panel 7
Removing the headlight fairing 10
Refit the headlight fairing 17
2 – Fairings 20
Removing the front half-fairing 21
Refitting the front half-fairing 27
Removal of the fuel tank fairings 30
Refitting the fuel tank fairings 32
3 – Seat – seat cowling and side panels 34
Removal of the seat 35
Removal of the side panels and seat cowling 36
Refitting the side panels and seat cowling 38
Refitting the seat 39
4 – Front mudguard 40
Removal of the front mudguard 41
Refitting the front mudguard 42
Fitting the front semi mudguard 43
Removing the oil sump guard 45
5 – Rear mudguard – Splash guard 47
Removing the rear mudguard 48
Refitting the rear mudguard 48
Fitting the long rear mudguard 49
Removing the splash guard 50
Refitting the splash guard 51
Section 6
6 – Electric system and engine control system 0
1 – Wiring diagram 4
Wiring diagram 1200 S ABS – Key 6
Wiring diagram 1200 S ABS – Key 7
Wiring diagram colour codes 8
Key of front fuse box 8
Key of rear fuse box 9
Routing of wiring on frame 10
Table A 13
Table B 13
Table C 14
Table D 16
Table E -1 20
Table E-2 25
Table F 28
Table G 30
Table H 32
Table I 34
Table J 37
Table K 41
Table L 43
Table M 44
Table N 47
Table O 49
Table P 52
Table Q 54
Table R 55
Table S 58
Table T 60
2 – Battery charging system 63
Checking the battery charging system 63
Recharging the battery 64
Topping up the electrolyte 65
Battery 69
Alternator 71
Rectifier-regulator 74
3 – Electric starting system 77
Electric starting system 77
Starter motor 78
Solenoid starter 83
4 – Lights and indicating devices 86
Replacing bulbs 86
Headlight aim 88
5 – Indicating devices 89
Checking the indicating system components 89
Water temperature sensor 96
Checking operation of the fan relay 97
Changing light bulbs 98
6 – Protection and safety devices 99
Checking protection and safety device components 99
Checking the fuses 101
7 – Instruments 103
Instrument panel 103
Instrument panel system (DASHBOARD) 104
Display settings and functions 107
8 – "Hands free" system 174
Hands free system Key-On and Key-Off 175
Key-On/Key-Off using the red key on the handlebar with the active key 177
Key-On/Key-Off using the key on the Hands free lock with the active key 178
Key-On/Key-Off using the red key on the handlebar with the passive key 179
Key-On/Key-Off using the key on the Hands free lock with the passive key 180
Key-On/Key-Off using the pin code (immobilizer release) 180
Entering PIN CODE function for vehicle release 181
9 – Immobilizer and transponder 183
10 – Description of the system 189
Injection and ignition 189
11 – Fuel injection-ignition system 190
12 – System components 191
Positioning of the control system components on the vehicle 191
Control unit support removing 192
Refitting the control unit support 193
Fuel injectors 196
Air pressure sensor 197
Engine temperature sensor 198
Air temperature sensor 199
Removing the coils 199
Throttle valve operation engine 201
Rpm/timing sensor 202
Injection relay 203
CAN Line 203
13 – Diagnostic instruments 204
Using a multimeter to check the electrical systems 204
Description of the diagnosis instrument (DDS) 206
Tester power supply 208
DDS diagnosis instrument 211
Checking and adjusting timing belt tension 212
Check the engine oil pressure 221
Cylinder compression test 225
Fuel pressure test 232
immobilizer override procedure 237
Guided diagnosis 241
Testing the battery charging system 244
Deactivating the "service" indication on the instrument panel 247
Icons table 250
Section 7
7 – Chassis 0
1 – Front wheel 5
Removal of the front wheel 6
Overhauling the front wheel 9
Refitting the front wheel 12
2 – Rear wheel 15
Removing of the rear wheel 16
Overhauling the rear wheel 16
Refitting the rear wheel 18
3 – Front brake control 19
Removal of the front brake master cylinder 20
Refitting the front brake master cylinder 21
Maintenance operations 23
Removal of the front brake system 23
Removal of the brake disks 26
Overhauling the front brake components 26
Refitting the brake disks 26
Refitting the front brake system 27
4 – Rear brake 30
Removing of the rear brake control 32
Disassembly of the rear brake control 34
Refitting the rear brake control 35
Removal of the rear brake calliper 38
Removal of the rear brake disc 39
Refitting the rear brake calliper 40
5 – ABS system information 41
Operating principle 41
ABS system operating information 42
ABS system deactivation 44
6 – System components 45
Replacing the front phonic wheel sensor 46
Replacing the rear phonic wheel sensor 48
Removing of the ABS control unit 49
Refitting the ABS control unit 50
Flexible wiring/hoses positioning 51
Table A 52
Table B 53
Table C 57
7 – ABS components maintenance 61
Adjusting of the AIR-GAP phonic wheel sensor 61
Bleeding of the ABS hydraulic system 63
8.1 – Handlebar assembly – Hand guards –
Rear-view mirrors – Throttle grip 64
Removal of the rear-view mirrors 66
Refitting the rear-view mirrors 67
Removing of the hand guards 68
Refitting the hand guards 68
Removal of the handlebar 69
Refitting the handlebar 70
Adjusting the throttle cable 72
Removal of the throttle twistgrip 72
Refitting the throttle twistgrip 73
8.2 – Handlebar unit: clutch hydraulic control 75
Removal of the clutch master cylinder assembly 76
Refitting the clutch master cylinder assembly 77
Removal of the clutch transmission unit 79
Refitting the clutch transmission unit 81
9 – Gearchange mechanism 85
Removal of the gearchange control 86
Disassembly of the gearchange mechanism 86
Refitting the gearchange mechanism 87
10.1 – Fork – Steering head: front fork (1200 ABS) 88
Refitting the front fork (1200 ABS) 89
Overhauling the front fork (1200 ABS) 90
Refit the front fork (1200 ABS) 98
10.2 – Front fork – Steering head: front fork (1200 S ABS) 99
Removal of the front fork (1200 S ABS) 100
Overhauling the fork 100
Refit the fork (1200 S ABS) 111
10.3 – Fork – Steering head: yoke 112
Adjusting the steering head bearings 113
Steering angle adjustment 114
Removal of the steering head components 115
Refitting the steering head components 118
12 – Rear shock absorber assembly 121
Rear suspension system 122
Removal of the rear shock absorber 123
Overhauling the rear shock absorber 124
Refitting the rear suspension 125
13 – Swingarm 128
Removal of the rear wheel eccentric hub and rear wheel axle 130
Refitting the rear wheel eccentric hub and rear wheel axle 132
Removal of the swingarm 135
Inspecting the swingarm pivot shaft 138
Overhauling the rear swingarm 139
Refitting the swingarm 144
14 – Final drive 147
Inspecting the final drive 148
Removing of the front sprocket 149
Refitting the front sprocket 151
Replacing of the rear sprocket 153
Refitting the rear sprocket 154
Washing the chain 155
Lubricating the chain 155
15 – Footrest brackets 156
Removal of the front footrests 157
Refitting the front footrests 158
Removing of the rear footrests 159
Refitting the rear footrests 159
16 – Stands 160
Removing of the sidestand 161
Refitting the sidestand 163
17 – Frame inspection 164
Disassembly of structural components and the frame 165
Removing of the headlight assembly 167
Refitting the headlight assembly 167
Checking the frame 169
Reassembly of structural components and the frame 170
18 – Licence plate holder 171
Removal of the licence plate holder 172
Refitting the licence plate holder 174
Section 8
8 – Fuel System/Exhaust System 0
2 – Fuel tank 3
Removal of the fuel tank 4
Removing the filler plug unit 7
Refitting the filler plug unit 7
Renewal of the fuel tank flange 8
Refitting the fuel tank flange 9
Refitting the fuel tank 10
6 – Airbox – Throttle Body 15
Removal the airbox and throttle body 16
Refitting the airbox and throttle body 23
7 – Air intake 27
Removal of the air filters 28
Refitting the air filters 29
8 – Exhaust system 31
Removal of the exhaust system 33
Refitting the exhaust system 37
10 – Evaporative emissions canister 42
Evaporative emissions canister system (USA versions only) 43
Removal of the evaporative emissions canister 44
Refitting the evaporative emissions canister 44
Section 9
9 – Engine 0
1 – Removal–refitting of the engine assembly 5
Removal of the engine 6
Refitting the engine 8
2.1 – Lubrication system: oil pump 10
Removal of the oil pump 11
Disassembly of the oil pump 12
Reassembly of the oil pump 13
Refitting the oil pump 13
2.2 – Lubrication system: oil cooler 15
Removal of the lubrication system 16
Oil cooler inspection 17
Refitting the lubrication system 18
2.3 – Lubrication system: oil breather tank 21
Refitting the oil breather tank 22
Refitting the oil breather tank 23
3.1 – Cooling system: coolant expansion tank 26
Removal of the expansion tank 27
Refitting the expansion tank 28
3.2 – Cooling system: radiator 30
Removal of the radiator 31
Renewal of the cooling fan 33
Refitting the radiator 33
Removal of the cooling system hoses and unions 36
Refitting the cooling system hoses and unions 39
3.3 – Cooling system: water pump 45
Removal of the water pump 46
Refitting the water pump 48
4.1 – Cylinder head assemblies: checks and adjustments 53
Checking and adjusting the valve clearances 54
Checking valve lift 57
Checking the engine timing 58
4.2 – Cylinder head assemblies: timing system 61
Removal of the timing belt covers 62
Removal of the movable tensioner/timing belt 63
Removing of the cylinder head pulley/fixed tensioner 63
Removal of the tensioner and idler pulley mounting studs 64
Disassembly of the camshaft pulleys 64
Removing the timing belt driveshaft pulleys 65
Refitting the timing belt driveshaft pulleys 66
Refitting the idler and tensioner pulley mounting studs 68
Reassembly of the timing pulleys 69
Refitting the cylinder heads pulleys/fixed tensioners 70
Refitting the timing belts 72
Refitting the timing covers 78
4.4 – Cylinder head assemblies: camshafts 79
Removal of the camshafts 81
Checking the camshafts and supports 83
Refitting the camshafts 84
Removal of the intake manifold and coolant union 91
Refitting the intake manifold and coolant union 92
4.5 – Cylinder head assemblies: valves – rocker arms 94
Removal of the cylinder heads 95
Removing the valves 96
Removing the valve rocker arms 97
Overhaul of cylinder head components 100
Reassembly of the cylinder head 107
Refitting the cylinder head assemblies 115
5 – Cylinder/piston assemblies 116
Removal of the cylinder/piston assembly 117
Overhaul of the cylinder barrel/piston components 120
Refitting the cylinder/piston assembly 125
6.1 – Clutch assembly: clutch 130
Description of the clutch assembly 131
Removal of the clutch 132
Checking and overhauling the components 135
Reassembling the clutch 137
6.2 – Clutch assembly: clutch-side crankcase cover 141
Removal of the clutch-side crankcase cover 142
Disassembly of the clutch-side crankcase cover 143
Reassembly of the clutch-side crankcase cover 144
Refitting the clutch-side crankcase cover 145
6.3 – Clutch assembly: primary drive gears 146
Removal of the primary drive gear 147
Refitting the primary drive gears and checking backlash 149
7.1 – Gearbox assembly: gearchange mechanism 153
Removal of the gear selector lever 154
Disassembly of gear interlock plunger and pawl assembly 156
Refitting the gear interlock plunger and pawl assembly 157
Refitting the gear selector lever 159
7.2 – Gearbox assembly: gearbox shafts 162
Removal of the gearbox assembly 164
Disassembly of the gearbox shafts 167
Overhaul of the gearbox 176
Inspection of the gear selector forks 177
Inspection of the gear selector drum 178
Reassembly of the gearbox shafts 179
Reassembly of the gearbox 183
8 – Flywheel – alternator 184
Removal of the alternator-side crankcase cover 186
Disassembly of the alternator-side crankcase cover 188
Removing the flywheel – generator assembly 189
Overhaul of the flywheel-alternator assembly 191
Refitting the flywheel-alternator assembly 197
Refitting the alternator-side crankcase cover 199
9.1 – Crankcase assembly: external components 203
Removing outer components 205
Refitting the external components 208
Removal of the timing gears 213
Refitting the timing gears 215
Removal of the starter motor idler gear 217
Refitting the starter motor gear 218
9.2 – Crankcase assembly: crankcase halves 219
Separation of the crankcase halves 221
Overhaul of the crankcase halves 224
Main bearings 227
Reassembly of the crankcase halves 230
Shimming the shafts 233
Reassembly of the crankcase halves 236
9.3 – Crankcase assembly: crankshaft/connecting rods assembly 244
Removal of the crankshaft/connecting rods assembly 245
Disassembly of the crankshaft/connecting rods assembly 246
Overhaul of the connecting rods 247
Reassembly of the connecting rods 251
Refitting the crankshaft/connecting rod assembly 255
---
---