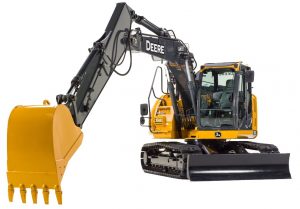 Pages from OMT319586 – John Deere 135G Excavator (PIN 1FF135GX_ _E400001-) Operator's Manual

Complete technical Operator's Manual with electrical wiring diagrams for John Deere 135G Excavator. It's the same manual used by dealers that guaranteed to be fully functional and intact without any missing page.
This John Deere 135G Excavator Operator's Manual is divided into different sections. Each section covers a specific component or system with detailed illustrations. A table of contents is placed at the beginning of each section. Pages are easily found by category, and each page is expandable for great detail. The printer-ready PDF documents work like a charm on all kinds of devices.
OMT319586 – John Deere 135G Excavator (PIN 1FF135GX_ _E400001-) Operator's Manual.pdf
424 pages, bookmarked, Searchable, Printable, high quality PDF
EXCERPT:
Table of Contents (exploded views)
Foreword 7
1 – Safety 8
Add and Operate Attachments Safely 8
Add Cab Guarding for Special Uses 9
Avoid Backover Accidents 10
Avoid High-Pressure Fluids 11
Avoid High-Pressure Oils 12
Avoid Machine Tip Over 13
Avoid Unauthorized Machine Modifications 14
Avoid Work Site Hazards 15
Clean Debris from Machine 16
Clean Exhaust Filter Safely 17
Control Pattern Selector—If Equipped 19
Dispose of Waste Properly 20
Drive Metal Pins Safely 21
Exhaust Filter Ash Handling and Disposal 22
Follow Safety Instructions 23
Handle Chemical Products Safely 24
Hydraulic Coupler Safety Signs—If Equipped 25
Inspect and Maintain ROPS 26
Inspect Machine 27
Keep Riders Off Machine 28
Make Welding Repairs Safely 29
Operate Only If Qualified 30
Park and Prepare for Service Safely 31
Prepare for Emergencies 32
Prevent Battery Explosions 33
Prevent Fires 34
Prevent Unintended Machine Movement 35
Recognize Safety Information 36
Remove Paint Before Welding or Heating 37
Safety and Operator Convenience Features 38
Safety Signs 39
Service Cooling System Safely 44
Start Only From Operator's Seat 46
Stay Clear of Moving Parts 47
Use and Maintain Seat Belt 48
Use Special Care When Lifting Objects 49
Use Steps and Handholds Correctly 50
Wear Protective Equipment 51
Work In Ventilated Area 52
2 – Operation 53
Adjusting Pilot Control Lever Console Height 53
Adjusting the Air Suspension Seat—If Equipped 54
Adjusting the Mechanical Suspension Seat 55
Auxiliary Function Enable Switch—If Equipped 57
Auxiliary Function Lever (AFL)—If Equipped 58
Before Starting Work 59
Cab Dome Light Switch 60
Cab Heater and Air Conditioner 61
Cold Weather Start Aid 63
Cold Weather Warm-Up 64
Control Lever Pattern Conversion 67
Control Lever Pattern Operation 69
Driving Up a Steep or Slippery Slope 71
Engine Stop Switch 72
Exhaust Filter Parked Cleaning Switch 73
Exhaust Filter Parked Cleaning 74
Exhaust Filter 77
Fire Extinguisher Mounting Location 80
Horn 81
Left Console 82
Lifting the Machine 83
Lifting 85
Loading and Unloading for Transport 86
Locking the Hydraulic Coupler to the Attachment—If Equipped 88
Long Arm Setup for Transport or Operation—If Equipped 91
Lower Boom With Engine Stopped 92
Main Menu 94
Main Menu—Air Conditioner 96
Main Menu—Alarm List 98
Main Menu—Information Menu 104
Main Menu—Information Menu—Maintenance 105
Main Menu—Information Menu—Monitoring 107
Main Menu—Information Menu—Operation 108
Main Menu—Information Menu—Troubleshooting 110
Main Menu—Radio 111
Main Menu—Setting Menu 113
Main Menu—Setting Menu—Attachment Name Input 115
Main Menu—Setting Menu—Auto Exhaust Filter Cleaning 116
Main Menu—Setting Menu—Auto-Shutdown 118
Main Menu—Setting Menu—Brightness Adjustment 119
Main Menu—Setting Menu—Date and Time 120
Main Menu—Setting Menu—Display Item Selection 121
Main Menu—Setting Menu—Language 122
Main Menu—Setting Menu—Main Menu Sequence Change 123
Main Menu—Setting Menu—Rear View Camera Monitor 124
Main Menu—Setting Menu—Sub Meter Selection 128
Main Menu—Setting Menu—Unit Selection 129
Main Menu—Work Mode 130
Mechanical Control Lever Pattern Selector—If Equipped 132
Monitor Functions 133
Monitor Start-Up 135
Monitor 136
Opening and Closing the Polycarbonate Type Roof Exit Cover 137
Opening Cab Door Window 138
Opening Upper Front (Alternative Exit) Window 139
Operating Blade—If Equipped 141
Operating in Water and Mud 142
Operating the AM _ FM Radio 143
Operator's Daily Machine Check Before Starting 144
Parking the Machine 145
Pedals, Levers, and Panels 147
Pilot Shutoff Lever 148
Power Dig Button 149
Rear Left Panel 150
Rear Right Panel 151
Removing and Storing the Lower Front Window 152
Right Console 153
Right Enable Switch 154
Seat Heater Switch—If Equipped 155
Secondary Exit Tool 156
Selecting Display Between Celsius and Fahrenheit 157
Starting Engine 158
Switch Panel Functions 160
Switch Panel 162
Towing Machine 163
Travel Alarm and Travel Alarm Cancel Switch 164
Travel Pedals and Levers 165
Unlocking the Hydraulic Coupler From the Attachment—If Equipped 167
3 – Maintanence 169
Additional Information About Diesel Engine Coolants and John Deere COOL-GARD™ II Coolant Ex1t6e9nder
Alternative and Synthetic Lubricants 171
Biodiesel Fuel 172
Check Air Intake Hoses 173
Check and Adjust Engine Valve Lash 174
Check and Adjust Track Sag 175
Check and Clean Air Cleaner Dust Unloader Valve 177
Check and Clean Fuel Injectors 178
Check and Clean Radiator Air Inlet Screen 179
Check Battery Electrolyte Level and Terminals 180
Check Coolant 183
Check Engine Coolant Level 186
Check Engine Oil Level 188
Check Hydraulic Tank Oil Level 190
Check Swing Gear Case Oil Level 193
Check the Hour Meter Regularly 194
Check Travel Gear Case Oil Level 195
Check Turbocharger 196
Check Windshield Washer Fluid Level 197
Clean Cab Fresh Air and Cab Recirculating Air Filters 198
Clean Exhaust Gas Recirculation (EGR) Cooler 200
Clean Rear Camera Lens—If Equipped 201
Cooling System Fill and Deaeration Procedure 202
Diesel Engine Coolant (engine with wet sleeve cylinder liners) 204
Diesel Engine Oil—Interim Tier 4 and Stage III B Engines 206
Diesel Fuel Specifications 207
Diesel Fuel 208
Disposing of Coolant 210
Drain and Refill Engine Oil and Replace Filter 211
Drain and Refill Hydraulic Tank Oil 213
Drain and Refill Swing Gear Case Oil 217
Drain and Refill Travel Gear Case Oil 218
Drain Auxiliary Fuel Filter and Water Separator 220
Drain Cooling System 221
Drain Final Fuel Filter and Water Separator 223
Drain Intervals for Diesel Engine Coolant 224
Drain Primary Fuel Filter and Water Separator 225
Drain Water and Sediment from Fuel Tank Sump 226
Drain Water and Sediment from Hydraulic Tank 227
Engine Oil and Filter Service Intervals—Interim Tier 4 and Stage III B Engines 229
Fluid Analysis Program Test Kits and 3-Way Coolant Test Kit 230
Fuel Tank 231
Handling and Storing Diesel Fuel 232
Hydraulic Breaker and Crusher Attachments 233
Hydraulic Oil 234
Inspect and Re-Torque Track Hardware 236
Inspect Belts 238
John Deere COOL-GARD™ II Coolant Extender 240
Lubricant Storage 241
Lubricate Blade Pivots—If Equipped 242
Lubricate Front End Pin Joints 243
Lubricate Hydraulic Coupler—If Equipped 244
Lubricate Swing Bearing Gear 245
Lubricate Swing Bearing 246
Lubricate Working Tool Pivots 247
Lubricity of Diesel Fuel 248
Minimizing the Effect of Cold Weather on Diesel Engines 249
Mixing of Lubricants 251
Open Access Doors for Service 252
Open Engine Cover for Service 253
Operating in Warm Temperature Climates 254
Prepare Machine for Maintenance 255
Remove and Clean Fuel Tank Inlet Screen 256
Replace Air Cleaner Dust Unloader Valve 257
Replace Air Cleaner Elements 258
Replace Auxiliary Fuel Filter and Water Separator 259
Replace Final Fuel Filter and Water Separator 261
Replace Hydraulic Tank Oil Filter 263
Replace Hydraulic Tank Vent Cap Filter 266
Replace Pilot Oil Filter 268
Replace Primary Fuel Filter and Water Separator 270
Required Parts 271
Service Exhaust Filter 273
Service Intervals 274
Service Machine at Specified Intervals 276
Supplemental Coolant Additives 277
Swing Gear Case and Travel Gear Case Oils 278
Take Engine Oil Sample 280
Take Fluid Samples 281
Testing Diesel Engine Coolant 282
Testing Diesel Fuel 283
Track Adjuster, Working Tool Pivot, Swing Bearing, and Swing Bearing Gear Grease 284
4 – Miscellaneous 286
135G Drain and Refill Capacities 286
135G Engine Specifications 287
135G Lift Capacity—Blade on Ground; Arm 2.52 m (8 ft. 3 in.); Bucket 414 kg (913 lb.); Shoe 600 m28m8 (24 in.)
135G Lift Capacity—Blade on Ground; Arm 2.52 m (8 ft. 3 in.); Bucket 414 kg (913 lb.); Shoe 700 m29m0 (28 in.)
135G Lift Capacity—Blade on Ground; Arm 3.01 m (9 ft. 11 in.); Bucket 414 kg (913 lb.); Shoe 6002 m92m (24 in.)
135G Lift Capacity—Blade on Ground; Arm 3.01 m (9 ft. 11 in.); Bucket 414 kg (913 lb.); Shoe 7002 m94m (28 in.)
135G Lift Capacity—Rubber Track; Blade on Ground; Arm 2.52 m (8 ft. 3 in.); Bucket 414 kg (913 l3b0.)0; Shoe 500 135G Lift Capacity—Rubber Track; Blade on Ground; Arm 3.01 m (9 ft. 11 in.); Bucket 414 kg (9133 l0b2.); Shoe 500 135G Lift Capacity—Rubber Track; Without Blade; Arm 2.52 m (8 ft. 3 in.); Bucket 414 kg (913 lb.);3 S04hoe 500 135G Lift Capacity—Rubber Track; Without Blade; Arm 3.01 m (9 ft. 11 in.); Bucket 414 kg (913 lb.3);0 S6hoe 500 135G Lift Capacity—Without Blade; Arm 2.52 m (8 ft. 3 in.); Bucket 414 kg (913 lb.); Shoe 600 mm3 (0284 in.)
135G Lift Capacity—Without Blade; Arm 2.52 m (8 ft.3 in.); Bucket 414 kg (913 lb.); Shoe 700 mm 3(2180 in.)
135G Lift Capacity—Without Blade; Arm 3.01 m (9 ft. 11 in.); Bucket 414 kg (913 lb.); Shoe 600 mm31 (224 in.)
135G Lift Capacity—Without Blade; Arm 3.01 m (9 ft. 11 in.); Bucket 414 kg (913 lb.); Shoe 700 mm31 (428 in.)
135G Machine Specifications 316
135G Working Ranges 318
Adding 12-Volt Accessories 320
Bleed Fuel System 321
Check Track Shoe Hardware 323
Clean Radiator, Oil Cooler, Charge Air Cooler, and Fuel Cooler 324
Clean the Machine Regularly 326
Do Not Service Control Valves, Cylinders, Pumps, or Motors 327
Do Not Service or Adjust Injection Nozzles or High-Pressure Fuel Pump 328
Electrical System 329
Engine 331
Handling, Checking, and Servicing Batteries Carefully 334
Hardware Torque Specifications 337
Hydraulic System 338
JDLink™ Machine Monitoring System (MMS)—If Equipped 340
Keep Machines Secure 341
Keep Proof of Ownership 342
Metric Bolt and Screw Torque Values 343
Monthly Storage Procedure 345
Operational Checkout 347
Precautions for Alternator and Regulator 388
Prepare Machine for Storage 389
Record Engine Serial Number 391
Record Hydraulic Coupler Serial Number—If Equipped 392
Record Hydraulic Pump Serial Number 393
Record Product Identification Number (PIN) 394
Record Swing Motor Serial Number 395
Record Travel Motor Serial Numbers 396
Removing the Bucket 397
Replacing Batteries 398
Replacing Bucket Teeth 399
Replacing Bucket Teeth—TK Series 401
Replacing Bucket Tooth Tip—Heavy-Duty Bucket 402
Replacing Fuses 403
Track Sag General Information 406
Troubleshooting Procedure 407
Unified Inch Bolt and Screw Torque Values 408
Using Battery Charger 410
Using Booster Batteries—24-Volt System 412
Welding on Machine 413
IMPORTANT 414
Manual Identification—READ THIS FIRST! 416
Non-Road Diesel Engine Emission Control System Warranty Statement 420
Off-Road Compression-Ignition Engines CALIFORNIA EMISSIONS CONTROL WARRANTY STATE4M2E2NT
FCC Notifications to User 424