INSTANT DOWNLOAD (add to cart)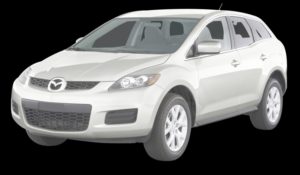 Complete workshop & service manual with electrical wiring diagrams for Mazda CX-7 2006-2012. It's the same service manual used by dealers that guaranteed to be fully functional and intact without any missing page.
Mazda CX-7 2006-2012 service & repair manual (including maintenance, overhaul, disassembling & assembling, adjustment, tune-up, operation, inspecting, diagnostic & troubleshooting…) is divided into different sections. Each section covers a specific component or system with detailed illustrations. A table of contents is placed at the beginning of each section. Pages are easily found by category, and each page is expandable for great detail. The printer-ready PDF documents work like a charm on all kinds of devices.
1,500+ pages, bookmarked, Searchable, Printable, high quality PDF
"CX-7"
CX-7 ER103100100001- Technical Information
Wiring Diagram | Workshop Manual | Engine | Transmission | Body Shop Manual | Troubleshooting | Technical Data
Applicable models : CX-7 ER103100100001-
Australian specs.
JM0 ER103100 100001—
European (L.H.D. U.K.) specs.
JMZ ER89360# 100001—
JMZ ER89380# 100001—
"2007 Mazda CX-7 Workshop Manual.pdf"
TABLE OF CONTENTS
GENERAL INFORMATION 00
ENGINE 01
SUSPENSION 02
DRIVELINE/AXLE 03
BRAKES 04
TRANSMISSION/TRANSAXLE 05
STEERING 06
HEATER, VENTILATION & AIR CONDITIONING (HVAC) 07
RESTRAINTS 08
BODY & ACCESSORIES 09
ALPHABETICAL INDEX AI
FEBRUARY 2006 Form No. 1871–1U–06B
Part No. 9999–95–034B–07
1,772 pages
VEHICLE IDENTIFICATION NUMBERS (VIN) JM3 ER29L✻7# 100001—
JM3 ER293✻7# 100001—
Please download with your computer instead of mobile devices ASAP (link valid for 48 hours).
For more quality manuals, please visit,
qualityservicemanual.com