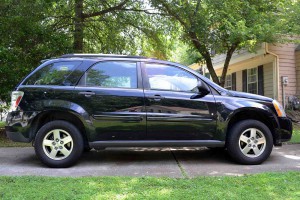 ---
---
---
2005-2008 Chevrolet Equinox Workshop Repair & Service Manual (9,720 Pages, Printable, iPad-ready PDF)
Complete digital workshop service and repair manual written for the Chevrolet Equinox; Production model years: 2005 2006 2007 2008. All styles covered (all models, and engines). It is in the cross-platform PDF document format so that it works like a charm on all kinds of devices.
This QUALITY manual is 100% COMPLETE and INTACT, no MISSING/CORRUPT pages/sections to freak you out! Buy from responsible seller and get INSTANT DOWNLOAD now without wasting your hard-owned money on uncertainty or surprise; this manual is exactly as described.
PRODUCT DETAILS:
Total Pages: 9,720 pages
File Format: PDF (Windows & Mac & Linux)
Language: English
Delivery: instant download link displayed on checkout page & emailed to you after payment
Protection: DRM-free; without any restriction
Printable: Yes
This COMPLETE official full workshop service repair manual includes:
* Detailed sub-steps expand on repair procedure information
* Notes, cautions and warnings throughout each chapter pinpoint critical information.
* Numbered instructions guide you through every repair procedure step by step.
* Bold figure number help you quickly match illustrations with instructions.
* Detailed illustrations, drawings and photos guide you through every procedure.
* Enlarged inset helps you identify and examine parts in detail.
* Numbered table of contents easy to use so that you can find the information you need fast.
* This manual also makes it easy to diagnose and repair problems with your machines electrical system.
* Troubleshooting and electrical service procedures are combined with detailed wiring diagrams for ease of use.
* COMPLETE, Absolutely No Missing Pages!
* Official Service INFORMATION You Can Count On!
* Customer Satisfaction GUARANTEED!
EXCERPT (2005-2008 Chevrolet Equinox Service/Repair Manual):
SCAN TOOL DATA DEFINITIONS
Use the Scan Tool Data Display Values and Definitions Information in order to assist in diagnosing control module problems. Compare the vehicles actual scan tool data with the typical data display value table information. Use the data information in order to aid in understanding the nature of the problem when the vehicle does not match with the typical data display values.
The scan tool data values were taken from a known good vehicle under the following conditions:
• The ignition switch is in the ON position.
• The engine is running at idle.
• The vehicle is in PARK.
• The doors are closed.
• The windows are closed.
• The A/C is ON, in UPPER mode.
• The ambient air temperatures are at 22-27°C (70-80°F).
The HVAC Scan Tool Data Definitions contains a brief description of all HVAC related parameters available on the scan tool. The list is in alphabetical order. A given parameter may appear in any one of the data lists. In some cases, the parameter may appear more than once or in more than one data list in order to group certain related parameters together.
Temperature Description and Operation.
• The following could cause window fogging:
• Wet carpet or mats
• High humidity
• Interior water leak
• Blocked A/C evaporator drain tube
• Maximum passenger capacity
• Blocked body pressure relief valves
• Inspect the air distribution system for causes of reduced air flow:
• Obstructed or dirty passenger compartment air filter, if equipped
• Blocked or damaged air inlet or outlet vents
1. Remove the instrument panel compartment. Refer to Compartment Replacement – Instrument Panel (1/P) .
2. Disconnect the electrical connector from the air temperature actuator.
3. Remove the air temperature actuator screws from the HV AC module.
4. Remove the air temperature actuator from the HVAC module.
1. Remove the left side insulator/closeout panel. Refer to Closeout/Insulator Panel Replacement- Left.
2. Remove the communication interface module, if equipped. Refer to Communication Interface Module Replacement .
3. Disconnect the electrical connector from the mode actuator.
4. Remove the mode actuator screws from the evaporator case assembly.
5. Remove the mode actuator from the evaporator case assembly.
---
---
---