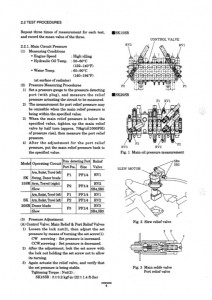 Kobelco Mini Excavators SK09SR, SK15SR, SK15MSR, SK16, SK17, SK16MSR, SK20SR Repair & Service Manual (145MB Printable PDF)
---
---
Complete digital official shop manual contains service, maintenance, and troubleshooting information for the Kobelco Mini Excavators SK09SR, SK15SR, SK15MSR, SK16, SK17, SK16MSR, SK20SR. Diagnostic and repair procedures are covered in great detail to repair, maintain, rebuild, refurbish or restore your vehicle like a professional mechanic in local service/repair workshop. This cost-effective quality manual is 100% complete and intact as should be without any missing pages. It is the same factory shop manual used by dealers that guaranteed to be fully functional to save your precious time.
This manual for Kobelco Mini Excavators SK09SR, SK15SR, SK15MSR, SK16, SK17, SK16MSR, SK20SR is divided into different sections. Each section covers a specific component or system and, in addition to the standard service procedures, includes disassembling, inspecting, and assembling instructions. A table of contents is placed at the beginning of each section. Pages are easily found by category, and each page is expandable for great detail. It is in the cross-platform PDF document format so that it works like a charm on all kinds of devices. You do not need to be skilled with a computer to use the manual.
MAKE: Kobelco
MODELS:
MINI EXCAVATORS
"SK09SR (S5PA0001E).pdf"
610 pages
"SK15MSR,SK16MSR (S5PF0002E).pdf"
616 pages
"SK15SR,SK20SR (S5PM0002E).pdf"
796
"SK16,SK17 (S5PF0004E).pdf"
630
Buy the best manual on the Internet from responsible merchant and get instant download without surprise.
INSTANT Delivery: A download link will be sent to you instantly after payment. Simply click on the link and save it to your computer. You can use this Manual as long as you wish with no restrictions.
PRINTABLE with Diagrams: Just print the manual out and start to work. You can also use the manual with your laptop in your garage.
Customer SATISFACTION: If there is any problem, just drop a quick email. Within hours the issue shall be taken care of.
REFUND Policy: We sell high quality products only. In case there is any problem with your purchase, a replacement link will be sent to you. If we are at fault, you get 100% refund.
EXCERPT:
1.3 OPERATION
(1) Hydraulic Piston Pump
Since the cylinder barrel of this piston pump is connected to the shaft with spline, it is rotated along with the shaft. The piston shoes which are incorporated in the cylinder barrel, follow to the rotation of the swash plate (slanted plate) resulting reciprocating movement that produces pumping action of suction and discharge depending upon the variation of the chamber volume.
This pump has even number of pistons so that the pump acts as two pumps with the same capacity in the one pump casing.
The valve plate, as shown in the Fig. 1-3, has two discharge grooves of outside (P1) and inside (P2). The every other piston chamber in the cylinder barrel is alternatively opened to either of discharge groove of outside (P1) or inside (P2), namely the same volume of discharge is independently exerted from P1 and P2 port. But suction groove is commonly used for both discharge grooves.
In this system, because of the even number of pistons, the same number of pistons is to be opened to the outside and inside of the valve plate. And all the pistons are identical with each other for the diameter, located on the same pitch circle, and sliding on the same swash plate.
Therefore, the discharge volume to outside (P1) and inside (P2) becomes equal.
Furthermore, because of only one swash plate, no difference is produced on the discharge volume to P1 and P2 eve.n though the slant angle of swash plate is varied due to variable control.
---
---