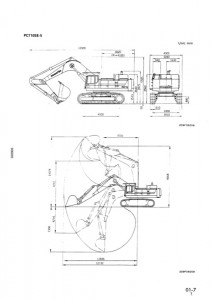 Komatsu PC650-5 PC650SE-5 PC650LC-5 PC710-5 PC710SE-5 Excavators Repair & Service Manual (734 pages Printable PDF)
---
---
Complete digital official shop manual contains service, maintenance, and troubleshooting information for the Komatsu PC650-5 PC650SE-5 PC650LC-5 PC710-5 PC710SE-5 Crawler Excavators. Diagnostic and repair procedures are covered in great detail to repair, maintain, rebuild, refurbish or restore your vehicle like a professional mechanic in local service/repair workshop. This cost-effective quality manual is 100% complete and intact as should be without any missing pages. It is the same factory shop manual used by dealers that guaranteed to be fully functional to save your precious time.
This manual for Komatsu PC650-5 PC650SE-5 PC650LC-5 PC710-5 PC710SE-5 Crawler Excavators is divided into different sections. Each section covers a specific component or system and, in addition to the standard service procedures, includes disassembling, inspecting, and assembling instructions. A table of contents is placed at the beginning of each section. Pages are easily found by category, and each page is expandable for great detail. It is in the cross-platform PDF document format so that it works like a charm on all kinds of devices. You do not need to be skilled with a computer to use the manual.
"Shop Manual (SEBM000607).pdf"
734 pages
MACHINE MODEL:
PC650-5
PC650SE-5
PC650LC-5
PC710-5
PC710SE-5
SERIAL NUMBER:
20001 and up
20001 and up
20001 and up
10001 and up
10001 and up
Buy the best manual on the Internet from responsible merchant and get instant download without surprise.
INSTANT Delivery: A download link will be sent to you instantly after payment. Simply click on the link and save it to your computer. You can use this Manual as long as you wish with no restrictions.
PRINTABLE with Diagrams: Just print the manual out and start to work. You can also use the manual with your laptop in your garage.
Customer SATISFACTION: If there is any problem, just drop a quick email. Within hours the issue shall be taken care of.
REFUND Policy: We sell high quality products only. In case there is any problem with your purchase, a replacement link will be sent to you. If we are at fault, you get 100% refund.
EXCERPT:
FUNCTION
When the OLSS mode is set to H mode, the discharge flow from the pump is controlled to the optimum by the command current from the controllerto match the change in the engine speed.
In S mode or L mode, and when the prolix switch is ON, the pump discharge flow is controlled to match the pump discharge pressure (load) by hydraulic sensing in accordance with a constant pump absorption torque.
* For details, see MACHINE CONTROL SYSTEM.
OPERATION
Because of the command current sent from the controller, solenoid push pin (10) moves, and piston (2) also moves. When this happens, it stops at a point where the sum of the force of spring (1) and the force of push pin (10) and the force of TVC output pressure Pe acting on piston (3) is in balance. At this point, the command current is small, so piston (2) is balanced at the bottom.
As a result, ports a and b are both almost completely open, and almost all the pressure oil from the charging pump output as TVC output pressure Pe.
For this reason, the pump discharge volume becomes the maximum.
---
---