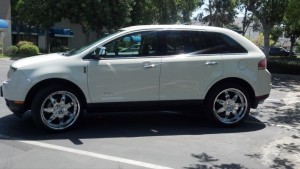 Ford Edge, Lincoln MKX 2009 Workshop Repair & Service Manual (COMPLETE & INFORMATIVE for DIY REPAIR) ☆ ☆ ☆ ☆ ☆
---
---
* COMPLETE, Absolutely No Missing Pages!
* Official Service INFORMATION You Can Count On!
* Customer Satisfaction GUARANTEED!
This high QUALITY official manual for Ford Edge, Lincoln MKX 2009 is 100 percents COMPLETE and INTACT, no MISSING, CORRUPT pages, sections to freak you out! This manual is exactly as described. It is in the cross-platform PDF document format so that it works like a charm on all kinds of devices.
FORMAT: PDF
LANGUAGE: English
SIZE/PAGE: 4,703 Pages
OS: Windows/Mac OS X/Linux/Android/iOS
INSTANT DELIVERY: A download link will be sent to you instantly after payment. Simply click on the link and save it to your computer. You can use this Manual as long as you wish with no restrictions.
CUSTOMER SATISFACTION: If there is ANY kind of problem with the item you purchased, just drop a quick email. Within HOURS the issue shall be taken care of.
PRINTABLE MANUAL WITH DIAGRAMS: Just print the manual out and start to work. You can also use the manual with your Tablet/Laptop in your garage.
REFUND/EXCHANGE POLICY: We sell high QUALITY products only. However if you encounter any problems with the item you purchased, another replacement link will be sent to you. If we're at fault, you will get 100 percents refund.
Buy ☆THE BEST MANUAL ON THE INTERNET☆ from responsible seller and get instant download now without uncertainty or surprise.
This highly detailed workshop service repair manual for download contains virtually everything you will ever need to repair, maintain, rebuild, refurbish or restore Ford Edge, Lincoln MKX 2009. All diagnostic and repair procedures and gives you access to the same information that professional technicians and mechanics have. You can view and print out the complete repair procedures with this workshop service repair manual Download – you do not need to be skilled with a computer.
EXCERPTS:
2009 Edge/MKX
Workshop Manual
Quick Links
Introduction
Master DTC Chart
Specifications
Metrics
Torque Wrench Adapter Formulas
Acronyms
Alphabetical Index
Table of Contents
1: General Information
00: Service Information
2: Chassis
04: Suspension
05: Driveline
06: Brake System
11: Steering System
3: Powertrain
03: Engine
07: Automatic Transmission
08: Manual Transmission, Clutch and Transfer Case
09: Exhaust System
10: Fuel System
4: Electrical
12: Climate Control System
13: Instrumentation and Warning Systems
14: Battery and Charging System
15: Audio Systems
17: Lighting
18: Electrical Distribution
19: Electronic Feature Group
5: Body and Paint
01: Body
02: Frame and Mounting
GROUP 03: Engine
SECTION 303-00: Engine System — General Information
SECTION 303-01: Engine — 3.5L
SECTION 303-03: Engine Cooling
SECTION 303-04: Fuel Charging and Controls — 3.5L
SECTION 303-05: Accessory Drive
SECTION 303-06: Starting System
SECTION 303-07: Engine Ignition — 3.5L
SECTION 303-08: Engine Emission Control
SECTION 303-12: Intake Air Distribution and Filtering
SECTION 303-13: Evaporative Emissions
SECTION 303-14: Electronic Engine Controls
SPECIFICATIONS
DESCRIPTION AND OPERATION
Accessory Drive
Accessory Drive Belt Routing
Front End Accessory Drive (FEAD) Belt
Power Steering Pump Belt
Belt Tensioner
DIAGNOSIS AND TESTING
Accessory Drive
Inspection and Verification
Symptom Chart
Component Tests
Drive Belt — Noise/Flutter
Drive Belt — Incorrect Installation
Belt Tensioner — Mechanical
Belt Tensioner — Dynamics
REMOVAL AND INSTALLATION
Front End Accessory Drive (FEAD) — Exploded View
Accessory Drive Belt
Accessory Drive Belt Tensioner
Power Steering Pump Belt
Accessory Drive
Inspection and Verification
NOTICE: Under no circumstances should the accessory drive belt, tensioner or pulleys have any fluids or belt dressing applied to them as damage to the belt material and tensioner damping mechanism may occur.
1. Verify the customer concern by operating the system.
2. Visually inspect for obvious signs of mechanical damage.
Belt Tensioner — Dynamics
The accessory drive belt tensioner can be checked dynamically as follows:
With the engine running, observe the accessory drive belt tensioner movement. The accessory drive tensioner should move (respond) when the A/C clutch cycles (if equipped), or when the engine is accelerated rapidly. If the accessory drive belt tensioner movement is excessive without A/C clutch cycling or engine acceleration, check belt rideout. Excessive belt rideout (uneven depth of grooves in the belt) can cause excessive accessory drive belt tensioner movement. Check rideout condition by
installing a new belt. If excessive accessory drive belt tensioner movement still exists, install a new accessory drive belt tensioner.
---
---