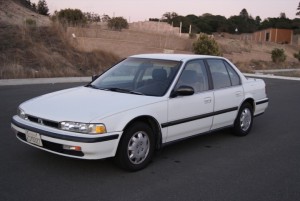 1986-2002 Honda Accord Repair & Service Manual (Printable PDF, 1.42GB)
---
---
Complete digital official shop manual contains service, maintenance, and troubleshooting information for the 1986-2002 Honda Accord. Diagnostic and repair procedures are covered in great detail to repair, maintain, rebuild, refurbish or restore your vehicle like a professional mechanic in local service/repair workshop. This cost-effective quality manual is 100% complete and intact as should be without any missing pages. It is the same factory shop manual used by dealers that guaranteed to be fully functional to save your precious time.
This manual for 1986-2002 Honda Accord is divided into different sections. Each section covers a specific component or system and, in addition to the standard service procedures, includes disassembling, inspecting, and assembling instructions. A table of contents is placed at the beginning of each section. Pages are easily found by category, and each page is expandable for great detail. It is in the cross-platform PDF document format so that it works like a charm on all kinds of devices. You do not need to be skilled with a computer to use the manual.
Buy the best manual on the Internet from responsible merchant and get instant download without surprise.
MAKE: Honda
YEAR: 1986 1987 1988 1989 1990 1991 1992 1993 1994 1995 1996 1997 1998 1999 2000 2001 2002
MODEL:
"'86.pdf"
835 pages
CA4: Accord 1600; CA5: Accord 2000
Transmission Group:
3: 5-speed (30)
4: Automatic (30)
5: 5-speed (40)
6: Automatic (401
"'86 Supplement.pdf"
177 pages
"'87 Supplement.pdf"
242 pages
"'88 Supplement.pdf"
340 pages
"'89 Supplement.pdf"
116 pages
"'90-'93 Aero Deck.pdf"
1,925 pages
1991 Accord Shop Manual
1991 Accord Shop Manual
1991 Accord Aero Deck Shop Manual
1992 Accord & Accord Aero Deck Shop Manual
1992 Accord Coupe Shop Manual
1993 Accord & Accord Aero Deck Shop Manual
"'90.pdf"
1,020 pages
"'91 Aero Deck Supplement.pdf"
89 pages
"'91 Supplement.pdf"
166 pages
"'92 Aero Deck Supplement.pdf"
414 pages
"'92 Supplement.pdf"
152 pages
"'93 Aero Deck Supplement.pdf"
90 pages
"'93-'96 4D"
Accord 4D, Accord 4D Diesel
120MB PDF
"'94 Aero Deck Supplement.pdf"
234 pages
"'94 Coupe.pdf"
1,379 pages
"'94 Supplement.pdf"
315 pages
"'94 Wiring.pdf"
50 pages
"'94-'95 Supplement.pdf"
66 pages
"'94-'97 Coupe_AD"
Accord Coupe/(Aerodeck)AD Wagon
98MB PDF
"'95 Coupe.pdf"
1,378 page
"'96 Aero Deck_Coupe Supplement.pdf"
280 pages
"'96 Diesel Supplement.pdf"
230 pages
"'96 Supplement.pdf"
380 pages
"'96 Supplement alternate.pdf"
146 pages
"'96-'97 Supplement.pdf"
72 pages
"'97 Aero Deck_Coupe Supplement.pdf"
58 pages
"'98-'00"
440 MB, EXE format
"'98-'02 ETM"
1998-2002 Honda Accord Electrical Troubleshooting Manual
"Index.pdf" = the Table of Contents
31.6 MB PDF
"'98-'02.pdf"
2,520 pages
1998-2002 Accord (2Door/4Door, V6 Engine included) Factory Service Manual
Body (Chassis) Codes: CF8 CG3 CG5 CG6
Includes J30A V6 engine
Electrical Troubleshooting Manual
"'99"
297 MB, HTML format
"'99 alternate"
388 MB, EXE format
INSTANT Delivery: A download link will be sent to you instantly after payment. Simply click on the link and save it to your computer. You can use this Manual as long as you wish with no restrictions.
PRINTABLE with Diagrams: Just print the manual out and start to work. You can also use the manual with your laptop in your garage.
Customer SATISFACTION: If there is any problem, just drop a quick email. Within hours the issue shall be taken care of.
REFUND Policy: We sell high quality products only. In case there is any problem with your purchase, a replacement link will be sent to you. If we are at fault, you get 100% refund.
EXCERPT:
General Information
Chassis and Paint Codes
1998 Model… …. …. …….. …… … …… …… 1-2
Chassis and Paint Codes
1999 Model …………………………………. 1-3
Chassis and Paint Codes
2000 Model …………………………………. 1-4
Chassis and Paint Codes
2001 Model …………………………………. 1-5
Chassis and Paint Codes
2002 Model …………………………………. 1-6
Identification Number Locations …….. 1-7
Warning/Caution Label Locations 1-8
Under-hood Emission
Control Label ………………………………. 1-12
Lift and Support Points …………………… 1-17
Towing ………………………………………….. 1-18
Parts Marking .. ……………. ….. ….. ….. …… 1-19
Revised Component Terms …………….. 1-20
Transmission End Cover
End Cover and Idler Gears Installation
Special Tools Required
Mainshaft holder 07GAB-PF50101 or 07GAB-PF50100
1. Install the park lever (A) and park lever stop (B) on the control shaft (C), then install the lock bolt (D) with a new lock washer (E). Do not bend the lock tab of the lock washer in this step; bend it after check the park pawl engagement in step 25.
2. Coat the following parts with ATF:
• Splines of the countershaft, park gear, and old
locknut.
• Threads of the countershaft and old locknut.
• Old conical spring washer.
3. Install the park gear (A) using the old locknut (B) and a collar (C). Engage the park pawl (D) to the park gear, then tighten the old locknut until the shaft splines come out slightly over the park gear splines.
NOTE: Do not use an impact wrench.
4. Remove the locknut and the collar, then install only the bearing hub/bearing assembly (A) and old conical spring washer (B). Tighten the old locknut
(C) to seat the park gear to 226 N·m, then remove the locknut and conical spring washer.
NOTE: Do not use an impact wrench. Always use a
torque wrench to tighten the locknut.
---
---