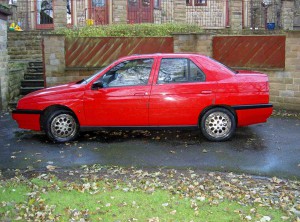 ---
---
1992-1998 Alfa Romeo 155 Workshop Repair & Service Manual (1,871 Pages Printable iPad-ready PDF)
Complete digital workshop service and repair manual written for the Alfa Romeo 155 (Type 167); Production model years: 1992 1993 1994 1995 1996 1997 1998. All styles covered (all models, and engines). It is in the cross-platform PDF document format so that it works like a charm on all kinds of devices.
This QUALITY manual is 100% COMPLETE and INTACT, no MISSING/CORRUPT pages/sections to freak you out! Buy from responsible seller and get INSTANT DOWNLOAD now without wasting your hard-owned money on uncertainty or surprise; this manual is exactly as described.
PRODUCT DETAILS:
Total Pages: 1,871 pages
File Format: PDF (Windows & Mac & Linux)
Language: English
Delivery: instant download link displayed on checkout page & emailed to you after payment
Protection: DRM-free; without any restriction
Printable: Yes
This COMPLETE official full workshop service repair manual includes:
* Detailed sub-steps expand on repair procedure information
* Notes, cautions and warnings throughout each chapter pinpoint critical information.
* Numbered instructions guide you through every repair procedure step by step.
* Bold figure number help you quickly match illustrations with instructions.
* Detailed illustrations, drawings and photos guide you through every procedure.
* Enlarged inset helps you identify and examine parts in detail.
* Numbered table of contents easy to use so that you can find the information you need fast.
* This manual also makes it easy to diagnose and repair problems with your machines electrical system.
* Troubleshooting and electrical service procedures are combined with detailed wiring diagrams for ease of use.
* COMPLETE, Absolutely No Missing Pages!
* Official Service INFORMATION You Can Count On!
* Customer Satisfaction GUARANTEED!
EXCERPT (1992-1998 Alfa Romeo 155 (Type 167) Service/Repair Manual):
MAIN BEARINGS
Fit the main bearings addressing them according to the indications given on the bearings.
1. Fasten the nuts to the prescribed torque in oil. Check whether the main journal diameter falls within prescribed values.
– The piston pins and the piston coupling holes are subdivided into two classes according to the manufacturing tolerances. These classes are differentiated by marks in BLACK or WHITE painted on the piston pin inner surface and the outer surface of the piston hub
1. Check that the piston pin outer diameter ranges within the specified values
2. Check that the coupling hole diameter with the piston ranges within the specified values.
WEIGHT DIFFERENCE CHECK OF PISTON AND CONNECTING ROD PAIRS
1. Match piston pins and pistons according to the relevant dimension class (BLACK or WHITE). Insert the piston pins in the pistons and block them by means of spring rings; install the piston rings and the oil scraper ring. Check that the weight difference between pistons ranges within the speciValve tightness check.
Fit the spark plugs in their seats.
1. Pour some petrol in the combustion chamber so to just cover the valve caps.
2. Let low pressure air into the intake manifolds and into the exhaust manifolds. Check there are no air bubbles in the petrol. If there are bubbles, check correct position and if required machine the valve seats (see specific paragraph). fied values.
Rocker arm journal
1. Fit the washers, the rocker arms and the springs. Turn the shaft so that the notches "A" correspond to holes "B" to let the cylinder head fastening studs through.
2. Use pin "C" (diameter 12 mm) to make sure it is so.